After directing a series of short films and making a name for himself at several film festivals, Bin Li is settling into his work in London. When asked about what bothers him while working on collaborations, the first word that came out of the 25-year-old Asian filmmaker's mouth is "disconnection".
"It doesn't happen every time I work together with someone, but when it does, it affects my mindset a lot, " Li said.
The concept of diversity in the UK film and television industry (UKF&TV) continues to evolve, with the central aim of achieving inclusion and representation in managing different social groups. Even during the pandemic, which had a devastating effect on the arts, advocacy for improved diversity was frequently mentioned.
However, two years after Sandra Oh slammed the racial diversity of the British film industry, the exclusion and inequality of minority groups are still to be addressed.
The latest report from the Office for National Statistics in November shows that 'Asian, Asian British or Asian Welsh' have risen to become the second most common ethnic group in the UK over the decade. In contrast, the diversity of Asian workers in UKF&TV does not appear to be in line with demographic trends.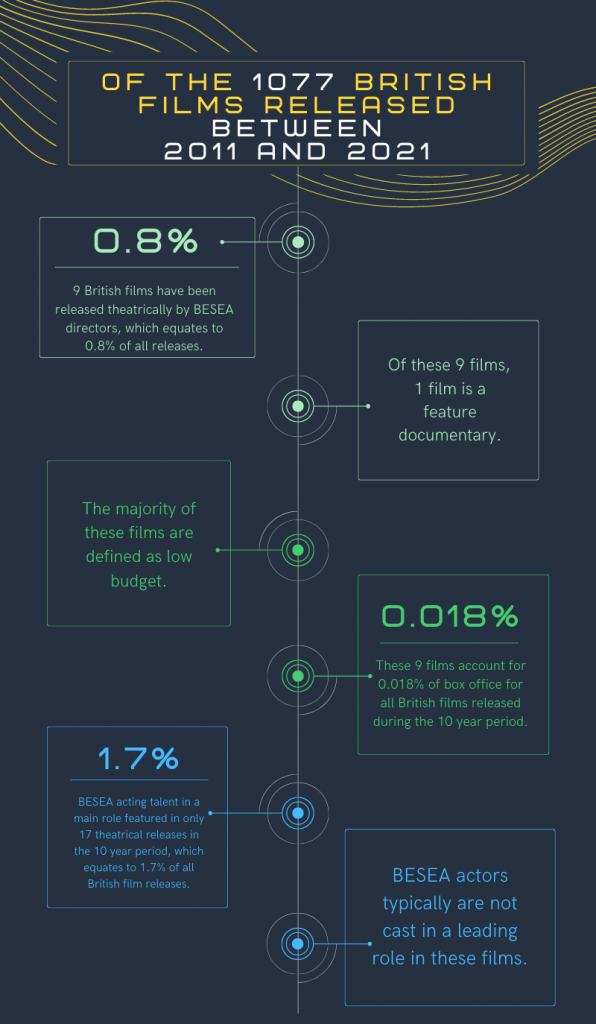 In a 2020 study, Dr Clive James Nwonka examined the British Film Institute (BFI) Diversity Standards. BFI is an industry-wide initiative adopted by UKF&TV, reviewing the current racial bias in the industry.
In the research, Dr Nwonka found that Black and other minority ethnic groups face a structural racist exclusion in key on-screen roles and off-screen positions.
"This exclusion is not only in behaviour but more importantly in the attitude of uninformed prejudice, " Li told The Voice of London.
Li used a project he worked on as a producer with a White director as an example: "He was quite self-centred when working with, and one of the most distressing things was that he didn't like doing storyboards, which should be the director's job."
In Li's view, the approach to work should be rigorous: "At least in the productions I've worked on before, the consensus was that, there needs to be a more industrial standard production process in order to keep each department running properly.
After I approached him about it several times, he gave me a perfunctory storyboard the day before the shoot, and the final on-set shoot was not executed in accordance with it. "
"I actually think the conflict itself leaned more towards a difference in terms of personal habits," Li emphasised. "But when my Chinese colleagues and I gave suggestions to him, his preferred reaction was that we Asians were ganging up on him."
"This wasn't the only time. There are situations that I don't think have anything to do with ethnic identity, but they just happen, " Li said.
A study commissioned by Arts Council England found that the biggest barrier for ethnic minorities in the art sector is 'concerns about feeling uncomfortable or out of place'.
This argument is supported by, Luchuan Jing, 31, film and television producer: "The most common thing I say to myself when I feel out of place is: After all, the film industry is still market-driven, so, okay, let's just say I'm making some compromises for what I enjoy."
The documentary Killing Remote is the first project Jing has worked on since arriving to London, and there were only three Asians, including him, in the production group.
"But it was clear to me that it needed to be improved," Jing admited. "UKF&TV has been making progress towards the ideals of diversity, but a lot of the time the political discourse predominates, rather than standing up for the idea that all people are truly equal."
"UKF&TV still has a long way to go to truly represent its audience, especially in terms of the context in which it provides off-screen and premium job opportunities for people of different ethnicities," Deborah Williams, Chief Executive of Creative Diversity Network, said in the Diamond Report.
For now, Li is still haunted by feelings of exclusion. He tends to employ Asians as crew, especially HOD (head of department), when he works as a director. In his opinion, it is "a shortcut to circumvent the hassles of the industry environment". But he is not satisfied with the status quo.
"There need to be better institutional rules to regulate and promote, and give more opportunities and supportive policies to ethnic minority groups. From an individual perspective, it's about breaking down prejudices and respecting and being able to see the strengths and uniqueness of each one," Li explained.
Words: Rui Liang | Subbing: Anna Kamocsai