Though economists continue to debate the threat to growth proposed by the pandemic and lockdown, being stuck at home whether you're self-isolating or quarantined, seems to have provided a major boost to the gaming industry.
It's already no secret that the gaming community provides a sanctuary for many to enjoy some stress free time after a long day, whether it's online with friends or even by yourself and what's more, people have been turning to video games as a way of coping with lockdown.
As a result, a new group of people who go by the name "Covideogamers" – people who have picked up or returned to gaming during lockdown, now make up 18% of the gaming population in the UK.
This gaming surge has resulted to the global gaming population having increased by a net of 4% since the outbreak of the coronavirus and according to a new report from market research agency Opinium, the UK gaming population has increased by 63% since lockdown.
According to the report, spending on gaming has also skyrocketed, with the UK spending a third (33% more) during lockdown and with women accounting a 55% increase in spending during this period.
Nearly half of the Covideogamers (46%) are under 34 and one in five are based in London.
The report suggests the majority of people have started playing because of more free time and over a third (37%) reported they play out of boredom.
The most popular gaming genres on mobile is puzzle games such as Candy Crush Saga and Angry Birds and popular action games on consoles such as PlayStation are Grand Theft Auto, Batman and Tomb Raider.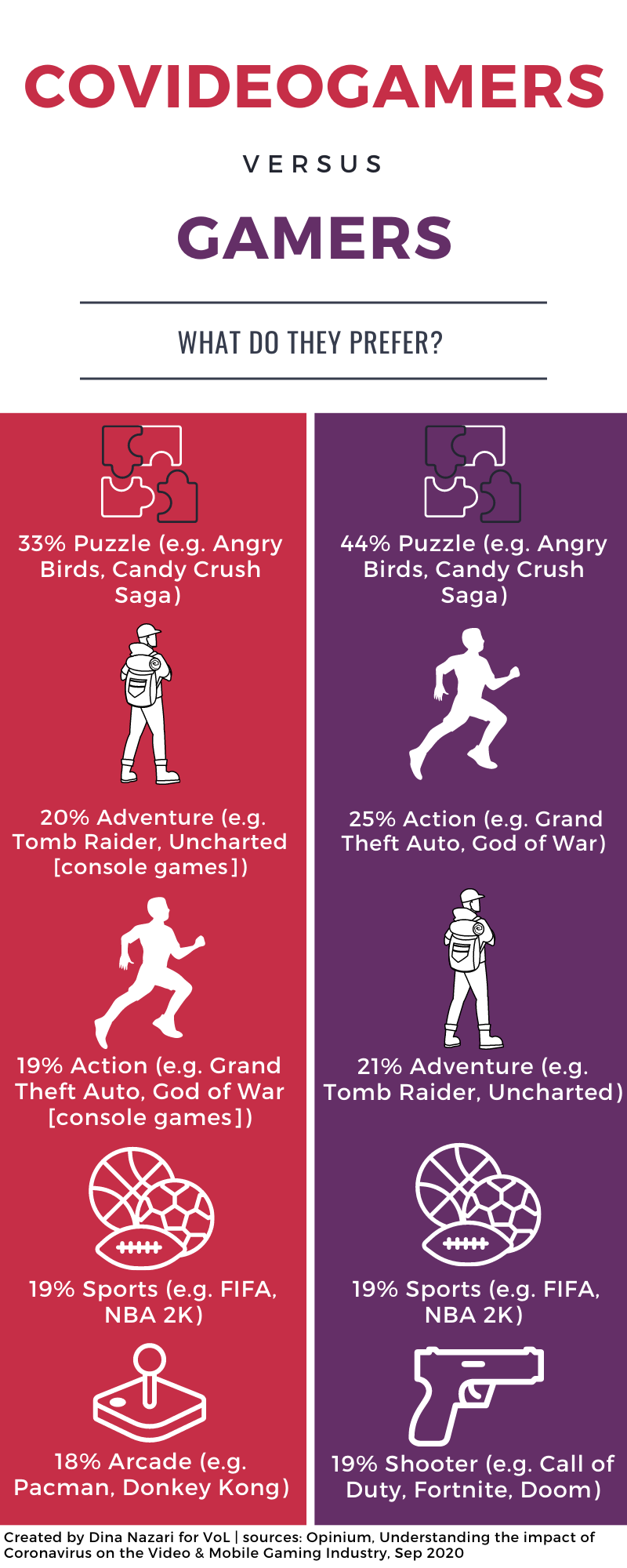 Ande Milinyte, Research manager at Opinium, said: "It is no secret the industry expanded over lockdown, a result of lapsed gamers returning and the rise of Covideogamers – those who have picked up gaming having more time on their hands. Now, the industry is asking how they can capitalise on this."
James Endersby, Chief Executive of Opinium, added: "With lockdown restrictions getting tighter, time and money spent on gaming shows no sign of abetting. Younger gamers are much more likely to play with their friends online than older gamers, and it's the same for new gamers who are attracted to the sector because of the social opportunity it provides."
However, it's not just mobile gaming that has seen an increase.
Demands for the Nintendo Switch console reached a record high and has been on fire during the pandemic in the wake of stay at home orders. Nintendo said revenues were $7.38 billion, up by 73.3% from $4.25 billion for the same period a year ago for the first 6 months of fiscal 2020.
The six month period includes Nintendo's release of Paper Mario: The Origami King for the Switch. When it was released in July, it sold 2.82 million copies. Super Mario 3D All-Stars debuted in September and sold 5.21 million copies.
Soon after during the same period, Animal Crossing: New Horizons sold an additional 14.27 million units, bringing its total sold to 26 million copies.
Gaming and mental health
As Voice of London previously reported, a variety of studies and tests from prestigious universities such as Oxford claim "video games are good for our mental well-being."
If you are a gamer yourself, you already know how jumping into a game with friends can have a positive affect on your mental health, especially with lockdown preventing us from being within physical distance of each other.
So what do some UK gamers have to say about how much their gaming has increased during lockdown and how it has impacted their mental health? Voice of London spoke to four gamers: Kabir, Nargis, Ephraim and Rakhin who share their thoughts:
[Music in audio piece: "Dawn" by Sappheiros, royalty free music \ cover photo for audio: Canva, royalty free)
As well as being a major stress reliever, gaming has proven to be beneficial for the brain.
Playing games directly impacts and affects regions of the brain responsible for memory, information organisation, spatial orientation and fine motor skills.
Gamers also tend to create challenges amongst themselves, which creates a highly engaged community, all trying to compete to be the best.
Participating in these social gaming experiences not only helps keep you occupied, but also aids the social distancing side of lockdown and reduces the spread of Covid.
So much so, this movement is not only backed by universities but even by the World Health Organisation, who have encouraged people since the start of the pandemic to engage with more video game content in a bid to create unification around the world.
Words, audio, interviews, infographic by: Dina Nazari | Subbing: Grace Staley