Chelsea will be allowed to sign new players in January, after the Court of Arbitration for Sport reduced their initial two window ban to one, which was served last summer.
Following an appeal made 6 months ago, CAS ruled that although Chelsea 'did violate the rules' in regards to the transfer and registration of young players, but the ban was amended on the grounds that some of the violations of other RSTP rules were 'less serious'.
The club were initially handed the ban after 150 rule breaches concerning the signing and registering of 69 academy players over a number of seasons. In some cases, the club were found to have claimed many academy players were only 'trialists' and in turn, did not play in organised matches. The club were handed a ban and a fine of £460,000 – a fee which was halved following today's ruling.
FIFA rules state that no player under-18 can be transferred to another country without meeting very specific requirements, such as the parents moving country for purely non-football purposes.
Excluding the pre-arranged and FIFA approved signings of Matteo Kovacic and Christian Pulisic, Frank Lampard is yet to make a single signing as Chelsea manager; predominantly because of the transfer ban.
"I'm happy with the squad we have here"

Frank Lampard reacts to Chelsea now being able to make January signings after their transfer ban was cut short. pic.twitter.com/xfbv4OmAUm

— Sky Sports News (@SkySportsNews) December 6, 2019
https://platform.twitter.com/widgets.js
Reaction
Manager Frank Lampard has described the outcome of the appeal as 'positive', although was quick to insist he was 'happy with the squad we have here'.
"As we go forward, of course if I feel or we feel as a club that there are positions we can strengthen, then we would obviously look at that – as all good clubs do."
"I'm certainly not going to sit here today and go down any lines with that! [in regard to transfers] We'll see where we are. As I keep saying, I'm happy with the squad we have here, I think we're doing okay. My job is always to focus on the next game."
Chelsea fans have been less subdued in their reaction on social media, with fans speculating exactly who might be the first person to walk through the door in a new era for Chelsea.
Chelsea Fans Submitting Transfer Wishlist after CAS Half the ban: pic.twitter.com/llS6MM6qZE

— MAH | (@matissearmani) December 6, 2019
https://platform.twitter.com/widgets.js
Reports that Chelsea's transfer ban has been REDUCED meaning the club will be allowed to sign players in January…

It's time to ruin football again. The second coming. Here we go.

— Uber Chelsea FC 🏆 (@UberCheIseaFC) December 5, 2019
https://platform.twitter.com/widgets.js
Chelsea ban lifted so talks over potential January deals for Nathan Ake, Timo Werner, Wilf Zaha and Moussa Dembele can now progress. They like Ben Chilwell but that transfer very unlikely in Jan, same with Jadon Sancho

— Dean Jones (@DeanJonesBR) December 6, 2019
https://platform.twitter.com/widgets.js
Analysis
Everyone at Chelsea will be delighted with this news, but with great power comes great responsibility, and that lies at the feet of one Frank Lampard.
Winning plaudits with his positive football and refreshing faith in the club's youngsters, the former England international must choose whether to stick or twist.
The experiment has worked so far; Tammy Abraham's 12 goals leave him only behind Jamie Vardy as the Premier League's top goal-scorer, whereas Mason Mount and Fikayo Tomoroi have forced their way into the England setup. The club find themselves 4th in the league and, so far, are defying expectations with such a young squad.
But now the temptation to revert back to the Chelsea of old has reared its head. The team is in desperate need of regeneration at both full back and in the wide attacking positions. The club have also made it clear that they would be interested in adding another striker, if possible.
There is a rumoured £150m available to spend, should Lampard want it, just for January alone. There is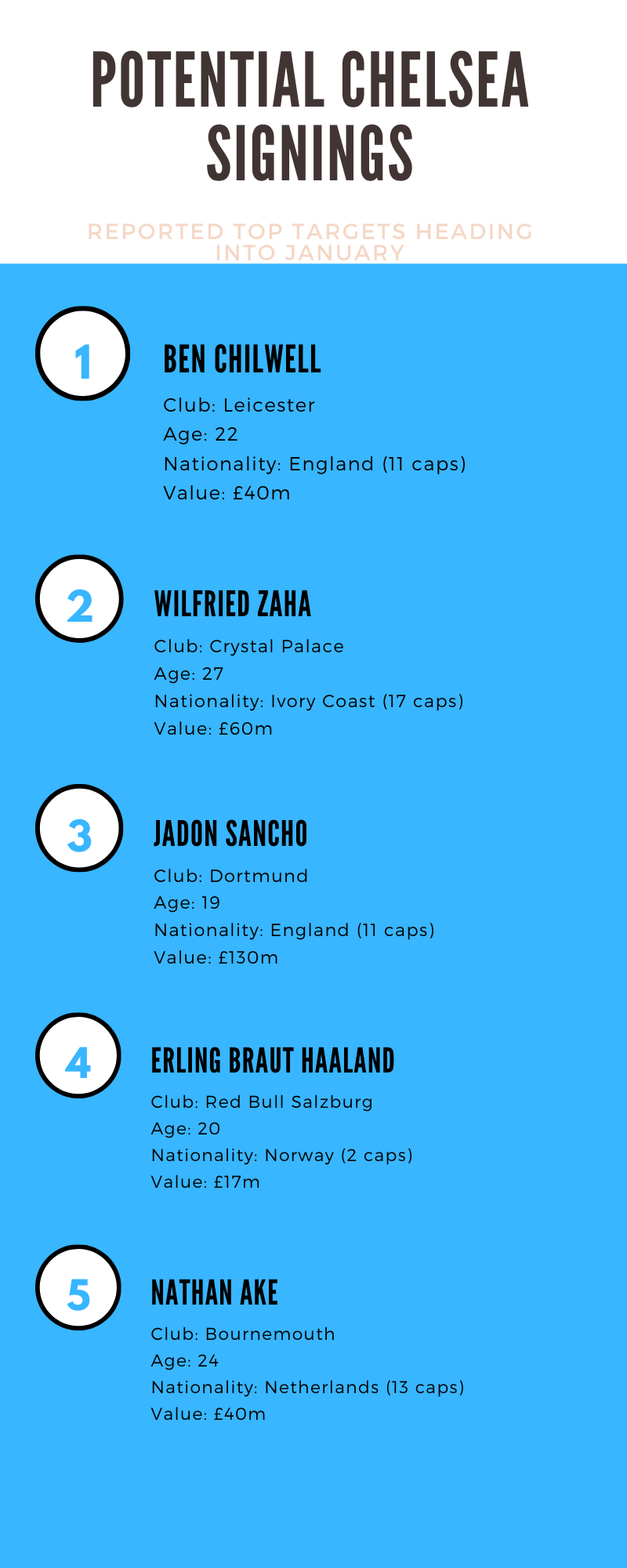 rarely time for rest and reflection in this sport and although things have started brightly at Stamford Bridge, Lampard must now start making the big decisions.
Who is at risk?
Of Chelsea's heralded 'young English core', (Tomori, Loftus-Cheek, Hudson-Odoi, Mount, Abraham) it would seem Loftus-Cheek, recovering from a long-term injury, might fins his place at risk. Perhaps fortunately for him though, Chelsea are not looking for central midfield players in this window.
Abraham may find his starting place as a source for competition, if Erling Haaland's reported £17m release clause is to be believed. Perhaps most likely to find his place under threat is Callum Hudson-Odoi. The England international is yet to score for his club, and with Chelsea's reported interest in Jadon Sancho and Wilfried Zaha, coupled with the emergence of Chirstian Pulisic, the 18 year-old may find opportunities harder to come by in future.
Ultimately though, most would expect Lampard to keep faith in his band of young talents for the most part. The current playing staff, a mix of Chelsea academy graduates and stalwarts of previous title winning teams, has meshed to create a rough diamond. There is most definitely area for improvement, but Lampard may find it easier to target those in the summer window.
Words by Micah Chudleigh