The annual PC gaming convention held by Blizzard Entertainment in Anaheim, CA wrapped up earlier this week and it's safe to say that the fans went home with mixed emotions.
Judging from the huge response on Twitter and Reddit, the changes to ongoing Blizzard projects as well as the ones yet to be launched had torn the fanbase apart.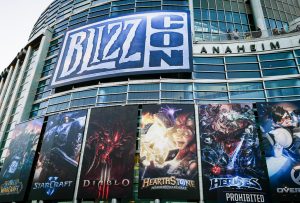 The main talking point of the convention was, of course, the announcement of a long-anticipated, brand-new Diablo game. Since the original Diablo hack 'n' slash stormed the hearts and wallets of PC gamers in 2000, Blizzard has continued to skillfully widen the fanbase of what had become one of the flagships in the company's fleet of games. However, it's been six years since we've seen the last expansion and the only place to look for news of Diablo 4 coming out was the YouTube section with wild theories and speculations. Therefore, it shouldn't be a surprise that the crowd gathered in the Anaheim Convention Center was fully expecting a new Diablo announcement. And they got it. Sort of…
"Diablo Immortal, an authentic Diablo experience in the form of a mobile MMO Action RPG, complete with six classes, eight distinct environments, and a custom Blizzard Battle.net interface that keeps you in constant contact with your fellow demon-slayers."
The release date has not been confirmed yet, but Blizzard is in the process of developing its very first mobile game in the association with NetEase. Now, why would that be a problem? To be perfectly honest, for the same reason why some Star Wars fans took out their frustrations on the creators of The Last Jedi . It wasn't what they wanted and they couldn't take watching what they thought was their beloved franchise destroyed. Blizzard had always been known for their ability to tap into the stream of communication among its players. They would listen to the feedback and improve the experience the way the community saw fit. Let's just say, to announce a mobile game at a PC convention is a faux pas, to begin with. The game essentially being sold off and developed by another company is just adding insult to injury.
During the panel, one of the attendees asked if the announcement was a delayed April Fool's joke:
My god, the savagery. The absolute savagery. #diabloimmortal #Diablo #diablo @LaymenGaming pic.twitter.com/Jvt4XzswzS

— Skill Up (@SkillUpYT) November 2, 2018
Here is how the community chose to respond:
Just gonna leave this here #pathofexile #Diablo #BlizzCon2018 #diabloimmortal pic.twitter.com/fO1lo8mrB9

— ChaosLord121 (@ChaosLord121) November 3, 2018
Cant wait for WoW:Classic, and Warcraft Reforged, but making Diablo for mobiles after such a disappointing Diablo 3, which was awaited for 10+ years, is beyond me… I guess $$$ above all things, but fans will not forget this. #diabloimmortal

— Danil Reshetnikov (@tehDiamondz) November 3, 2018
#diabloimmortal #diablo I made this a little more accurate pic.twitter.com/RRCyYGQU2u

— Gaminside (@Gaminside1) November 4, 2018
Speaking with IGN at BlizzCon, Blizzard's Wyatt Cheng responded to the community backlash by saying: "I don't think mobile should be a dirty word. When it came to looking at making a new Diablo game, and this opportunity to partner with NetEase to make this – the technology is there, where our mobile phones are more powerful than ever, and they're capable of top-tier gaming experiences."
Unfortunately for Blizzard, this wasn't the only way they dealt with backlash. Turns out, after the initial announcement the trailer video on YouTube had started gathering dislikes at quite a rapid pace. By day three, the number of dislikes reached 500k, compared to very modest 46k likes. Now, that is all according to the comment section under the video, seeing as Blizzard's PR department took it down only to re-upload it with a smaller amount. They went as far as to delete any comments that would be too critical, according to this Reddit thread. A strategy used repeatedly, that caused amusement in some and outrage in others.
The Blizzard team made an honest attempt, earlier this year, to minimize the damage done when they confirmed having multiple Diablo projects in the working. During an interview with Kotaku, one of the co-founders Allen Adham said: "That's something we tried to communicate. I know our community here, there's a concern that we are focused on this instead of that. The truth is that we have multiple Diablo teams working on multiple unannounced Diablo projects even after announcing [Immortal]." This clearly wasn't enough to lower the fans' expectations and avoid the disaster that the new game reveal undoubtedly was.
Despite the setback, the production team is convinced that the game will be a worldwide success. The aim is to reach a younger audience, less traditional about the platforms they use to access games. Dan Elggren, the production director, told Polygon: "We take the time to iterate to put out the best experience. You know, we'll listen to the passion we have from fans, and we'll definitely take those things to heart and make sure we do right [by them]."
As for the other main announcements of the event, you can find all the information you need on Blizzard Entertainment's official website.
Words by: Adam Kaczynski | Subbing: Matilde Moro