Don't take it the wrong way, crazy … in a good way, we love those dudes.
Carter and Kortney, or better, Chapel, decided to delight Slam Dunk fans with a crazy set across the entire weekend on the Rocksound Breakout Stage. Fresh off their US tour with Sleeping With Sirens, we met them in Birmingham to discuss about brunch, drinking and … mountains.
Fun Facts? During the process of transcribing this interview, we realised that Carter said he likes Sal's sweater 6 times within 12 minutes. Kortney mentions the word "mountains" 5 times which we had to cut out.  Also, I was expecting them to show up covered in maple syrup, it didn't happen.
Last day of Slam Dunk, how was it? Tell us all.
Kortney: It's been amazing, last time we were in the UK was one of the best tours we ever did. The crowd's reaction was incredible. This is our first festival in the UK.
Carter: It's our first festival! I love it, I think I would do festivals all the time. If I could I would.
Don't you think that headlining a tour is better because you know that people are there for you?
Kortney: When the time comes, once we get a few more good songs out and establish more our fanbase. Festivals are better because you gain more people who have never heard about you, you try to win them over.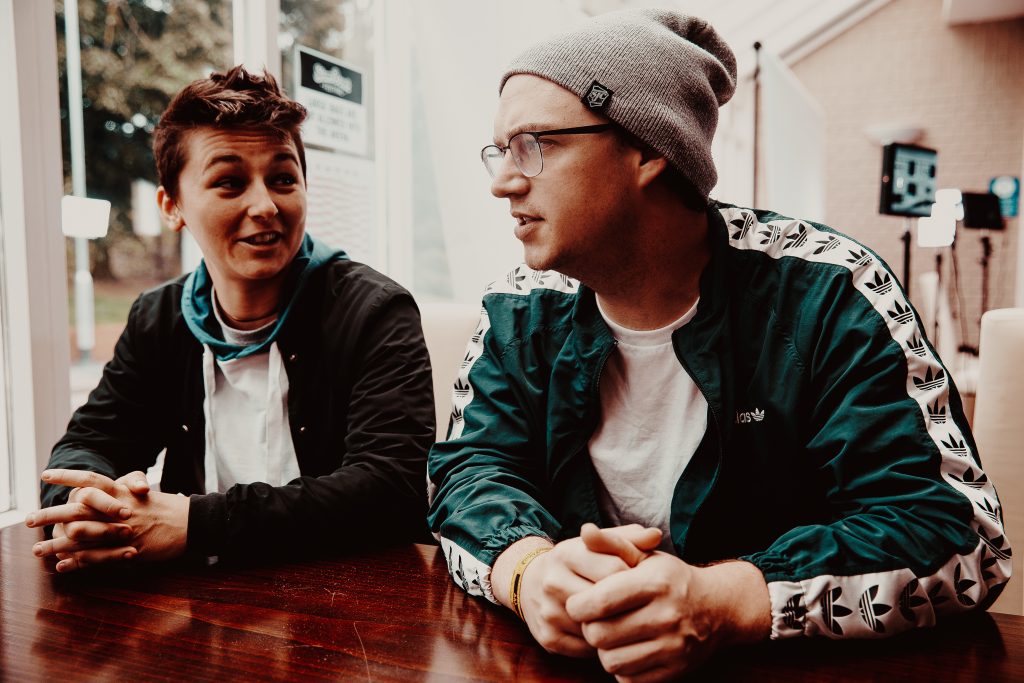 What is that one thing that you like the most about the UK?
Kortney: Greggs! We love Greggs!
Carter: I don't like it. It's just little bakes with stuff in them.
Kortney: You say that Carter, because last time we were there they didn't have what you wanted!
Carter: Umm, I also bought something and I dropped it on the floor. Bad experience. I still hate it. Also, my favorite thing about here is the people.
Kortney: The people and the accent, I am not gonna lie. I am that American.
Is there any difference between your fans in America and the ones here?
Carter: They're louder here in Europe. And here they are way more passionate about going to shows. In the States it depends where you're at, they go hard or not but here, every show feels like a good show. They express it more than they do in the States.
Has there been a "best crowd" at Slam Dunk?
Carter: Yesterday, London.
Kortney: Yes, definitely yesterday.
What is that you don't like about the UK?
Kortney: I am from Michigan in the States, the weather is kind of shitty, so here the weather is not too bad. But my least favorite thing about the UK is how much you all drink because you all get me drunk way too much and I just always feel like I need to drink and keep up with you guys.
Carter: She's lying. She drinks all the time. For her to say you drink too much, it's terrifying.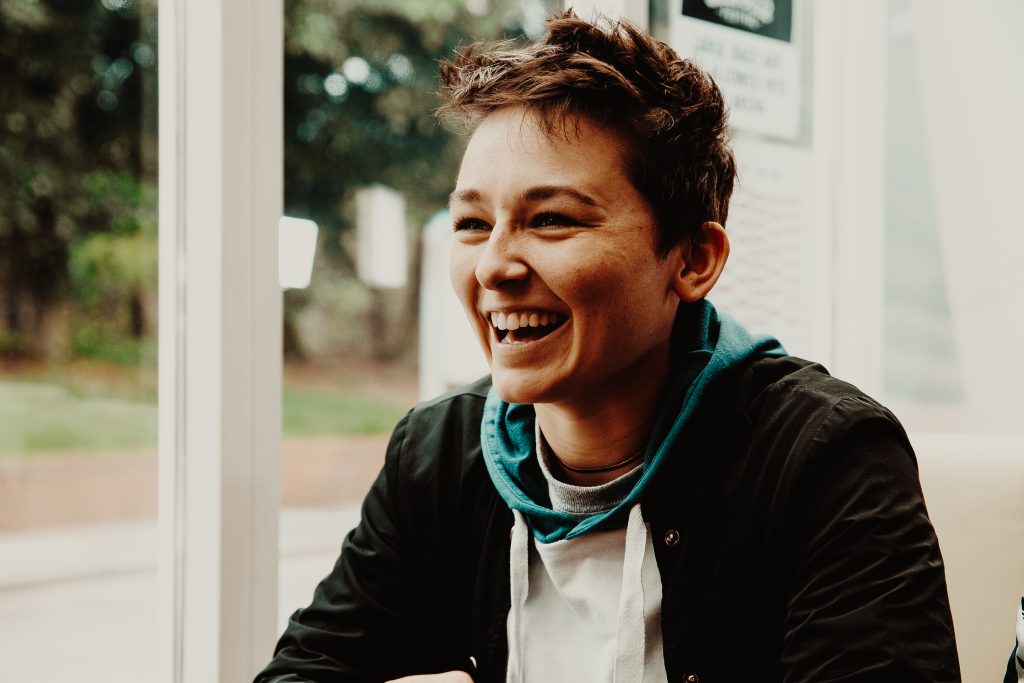 How did you guys start making music together?
Carter: I was writing a bunch, a year or two ago, and we knew each other from different bands. I sent her some stuff and she liked them.
Kortney: I have a super cool story actually. We were both in bands and they ended around the same time, he was trying to re-create his band. He hit me up because he saw my YouTube videos, I put a Rihanna cover out. He asked me if I was interested in recording drums for a band's new EP so I asked for some demos and I was amazed. So I asked, kind of like joking, can I join your band? And he said yes. I flew out to Georgia and recorded some stuff.
Carter: I was like, you want to be in a band with me? So here we are.
What inspires you the most?
Kortney: It's super weird. I am going to say mountains. I like being outside. I am an outdoor person. I like being in the woods. I like snowboarding, being alone in the middle of nowhere.
Carter laughs. A LOT.
You're on the road with Sleeping With Sirens. How was sharing this long run with them?
Carter: They're great. We've been fans of them for years, so it's really nice that they asked us to come out. I love watching them every night.
Kortney: They're amazing. It's been inspiring. They have been touring for 10 years or so, and they know all the tricks. The taught us to go out and explore more.
Carter: We got the email and I actually thought "What the fuck?"
"Sunday Brunch", what is the message behind it?
Carter: I said that out loud as a joke and everybody was like "you can do that" and it fits us. It has this college, kinda-chic aestetic style and it felt like us and that's what we wanted. A lot of fans have been receptive too about it. They have been really cool with it.
Kortney: At the beginning we had no idea of how much we could do with breakfast food, who doesn't love brunch? There's not one human, and if you don't like it … get out!
Ok, so now the important question. When are you coming back?
Kortney: We talked about it. Early next year sometimes?
Carter: We are trying to do something. We'll see.
Sunday Brunch is out now.
Words: Sal Fasone | Photos: Federica Burelli