A serial sex attacker has been found guilty today of committing 37 sex offences across England over two weeks' time.
Joseph McCann, of Harrow, raped and kidnapped 11 people aged between 11 and 71, including an 11-year-old boy, following his mistaken freedom from jail.
3 female victims were abducted off the street at knifepoint and repeatedly raped.
The 34-year-old's victims were assaulted during a two week period in London, Watford and Manchester between April and May as part of a cocaine and vodka-fuelled rampage.
McCann was found guilty at an Old Bailey trial, which included the rape of a child under 13, kidnap, and sexual assault concerning 11 alleged victims.
He will be sentenced on 9th December and is facing life in jail.
Timeline of Joseph McCann's attacks: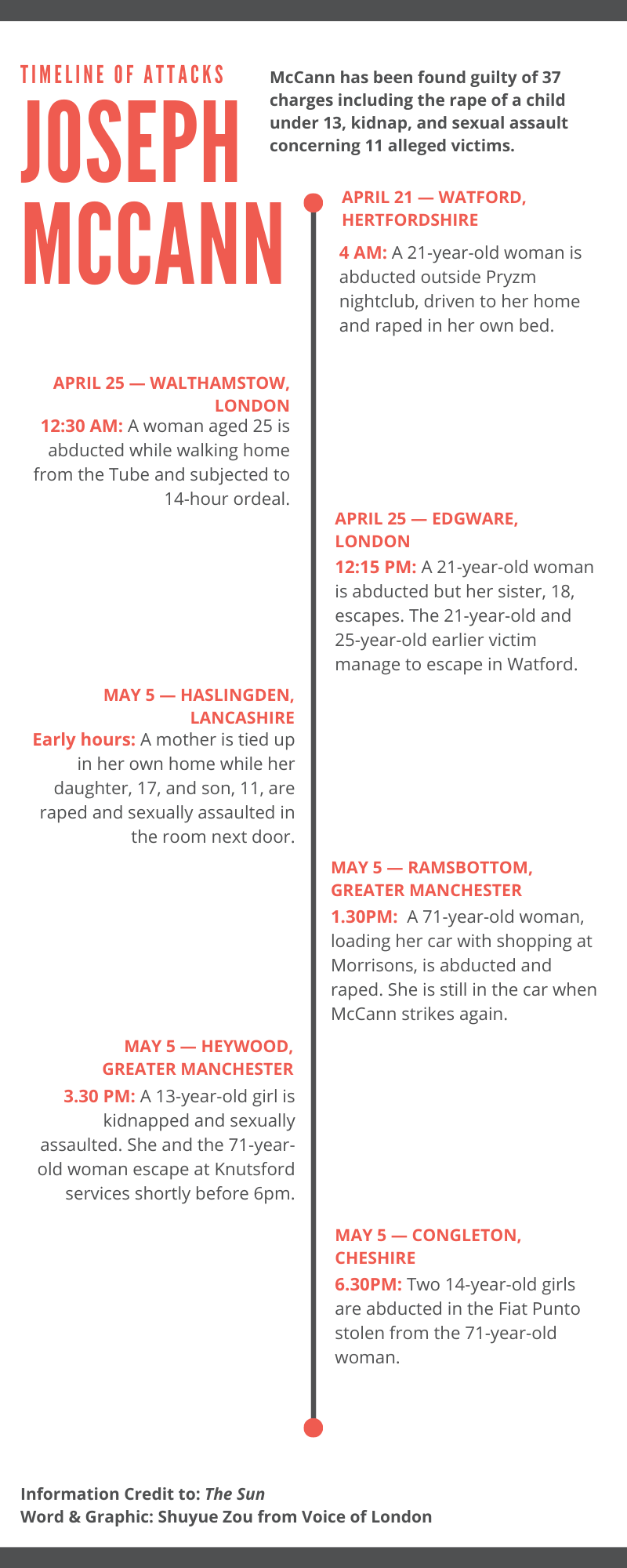 McCann's releasing from jail by mistake
Born in 1985, McCann caused his first trouble with the police for controlling his anger when he was a teenager, before going on to commit a series of offences including theft, criminal damage and handling stolen goods.
In 2008, the 23-year-old teen was ordered to serve a sentence of Imprisonment for Public Protection (IPP) for violent burglary.
This meant he'd be freed from jail only when the Parole Board decided it was safe to do so after a minimum of two-and-a-half years.
He was out license from prison when he was arrested in August 2018 for burglary again and was given a 3-year determinate sentence, without concerning his previous offending.
Just like Usman Khan on London Bridge, he was freed afterwards to carry on his attacks.
After detailed investigation, it was found that the Board was not informed by the Probation Service about his burglary, and therefore made those tragedies happen in April.
Jo Farrar, chief executive of HM Prisons and Probation Service, has "apologised unreservedly" for failings in the case.
Words: Shuyue Zou l Photo: Metropolitan Police