Words: Sal Fasone | Subbing: Bella Dawe
All the biggest manga, comic and movie fans were at Comic Con this weekend, and so were we. Here's a list of all the best bits at this year's event
Can we have all manga's, comics', movie's attention please? Ok, maybe … can we have everyone's attention please? MCM Comic Con returned to London for its 7th year in a row at ExCel in South East London for a full-on weekend bringing all the latest news in comics, movies, tv-series, interviews with celebrities, live podcasts but also panels, games and a lot of memorabilia.
Started in 2002 as a single day, it has now expanded to run twice a year for a full weekend in May and October involving the biggest industries in the cinema and comics world. Wondering who we are talking about? From Universal Pictures to Marvel Studios, from All The Anime to Manga Entertainment UK, this is the place for exclusive trailers, rare pieces of creativity and special previews.
Voice of London was there for you this year to have an inside look at what over 130,000 fans had the chance to taste, needless to say it was like jumping in and out of a movie set and here's our list of the 9 things you shouldn't have missed … but mark your calendar! MCM Comic Con returns in 2018!
1. The costumes, Or Better … The Cosplay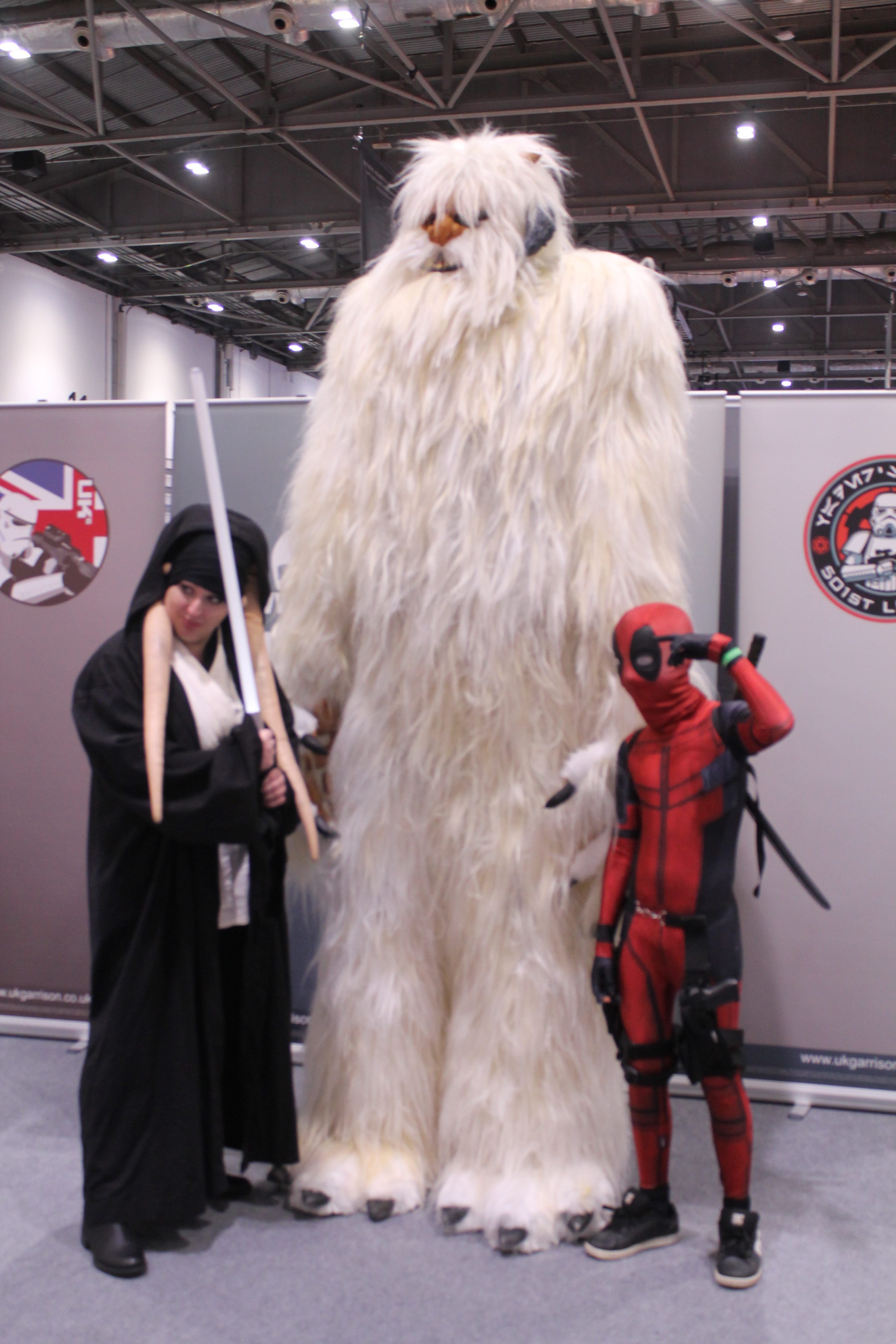 There are thousands of costumes and you'll definitely feel like an outcast if you're not dressed up. We spotted everything from Dragon Ball's Goku to Tomb Rider's Lara Croft, from Deadpool to Sailor Moon.
Visitors are encouraged to take part in cosplay and it has become so popular that Comic Con's October weekend has become home to the EuroCosplay Championships. One of the UK qualifying entries is decided at the earlier May event. But why dress up? To show off your dedication to your favourite comics or movie, to make new friends who share the same passion as yours for that production but more importantly … because it's fun! Who doesn't want to be a super hero for a day?
2. The Panels
Comic Con is the best place you have to meet your favourite idol and ask questions. Guests are usually actors or creators, producer or musician who have taken part in a big production and attend the event to promote their latest work but also to answer fan questions. They may also attend the show to raise awareness and funds for a charity or organisation they are collaborating with. Along with panels, you can book yourself in for workshops and seminars with comic books professionals, portfolio review sessions with video game companies and attend previews of upcoming films or tv series.
3. The Exclusive Sneak-Peaks
You heard it from us first! Jurassic World: Fallen Kingdom is coming out June 2018 and you can watch the trailer here. And just like Jurassic Park, a lot of movies have been presented at Comic Con with exclusive clips and trailer like Justice League, Pitch Perfect 3: The Last Call, Marvel's Black Panther and many more. Comic Con can always be relied on to give fans special previews before anyone else. And trust me, watching an extended version of Thor: Ragnarok's trailer a few days before its release is amazing and you don't want to miss out!
4. The Marvel Section

One of the biggest sections at Comic Con, Marvel brings out a 360 degree experience for all fans, from shopping for comics and merchandise to buying rare posters and exclusive looks at official costumes. You can find everything: soft toys, pop vinyls, books, phone cases, masks, paintings, t-shirts -pretty much Marvel everything.
Official costumes from The Black Panther, Thor: Ragnarok and Guardian of The Galaxy: Vol. 2 were showcased exclusively UK fans this year. The "red carpet" has housed free photo booths where you could photograph yourself next to your favourite super hero. As usual, gaming was part of the experience. In collaboration with Dolby Surround and VR, Marvel gave its fans the chance to play exclusive 360 degrees newest versions of Spiderman: Homecoming, The Mighty Thor and Guardian of The Galaxy: Vol. 2.
5. The Games: The More You Think, The More You Find …
The title says it all! The more you think, the more you'll find. Any game, for any platform, from any gaming house, for any taste. Kids aged 5-10 have a section too called Kidland. This year's MCM Comic Con saw the latest version of South Park, Super Mario, Spider man: Homecoming virtual reality, Plata Go! , Fight of Gods but also Tomb Rider and Catch Em! All to name a few. Virtual reality definitely had a big impact on this year's event as fans could where you can immerse themselves inside some games and act as a real character.
6. The Yu-Gi-Oh Card Gaming & Trading Area
Of course The Yu-Gi-Oh gaming and trading card had to be mentioned. It has its own entire pavillon dedicated to passionate people who queue up for hours to play and get their rare cards. Known as the Yu-Gi-Oh! Official Card Game in Asia, is a Japanese collectible card game developed and published by Konami. It is based on the fictional game of Duel Monsters created by manga artist Kazuki Takahashi, which is the main plot device during the majority of his popular manga franchise, Yu-Gi-Oh!, and its various anime adaptations and spinoff series. The game was launched by Konami in 1998. It was named the top selling trading card game in the world by Guinness World Records on July 7, 2009, having sold over 22 billion cards worldwide.
Card designers and the biggest tournament organisers are usually invited at Comic Cons in London, New York and San Diego.
7. The Billions Of Comic Books. Yes, I Said Billions

If it's called Comic Con it's for a reason. This is heaven! Comic Village is an area of the show that is co-ordinated by Gary "Wheels" Howe, a member of the MCM Expo Group. This area hosts approximately 200 tables, where amateur as well as professional artists/writers/publishers sell their comics as well as prints. This area also has a signing area where big names in the comic industry come and sign for members of the public, previous guests have included Gail Simone, Kevin Eastman, Frazer Irving, Antony Johnston and many more. What are this year's most anticipated comic books? From Doomsday Clock to Marvel Legacy, click here for the most anticipated comic books at MCM Comic Con London and New York.
8. The Crazy Shopping

You better save up some money before entering this crazy world! You'll definitely find something to spend your money on and no! Cash is not the only form of payment they accept, card, Apple Pay and PayPal are more than welcome. Here you will find costumes, clothes for any gender and age, any type of toys, any print (signed and non-signed), action figures, masks, pop vinyls, games, console covers, rare editions of books, books in different languages, movie script and obviously the food … from vegan to Japanese, from burgers to a simple coffee … the impossible becomes possible here at Comic Con. And if you see me around with an authentic Iron Man mask, you know where I found it!
9. The People

Yeah! Because it doesn't matter who you are, what you like and where you are from. It doesn't matter if you're team Marvel or DC. It doesn't matter if there's already 20 Captain America's and 50 Sakura's. It doesn't matter if you're a geek or a nerd, it doesn't matter if you like Xbox or Play Station. Everyone is the same here, everyone is different within equality. People walking around with their nation's flag or LGBT's flag around their waist are everywhere at MCM Comic Con. It's an event where everybody is everybody, where creativity is the main topic of the weekend and everybody can be a part of it … and we were there to experience it.
We can't wait to hear your Comic-expeience! Tell us about your first cosplay!
And if you don't want to miss out on 2018's event, stay tuned on http://www.mcmcomiccon.com