It's no secret that the UK is in the midst of governmental uncertainty and feisty political hostility.
Our party leaders are permanently feuding about issues that impact Britain, each promising to take measures to combat poverty, homelessness and deprivation across the country. With continuous unfulfilled promises and unlikely proposals, it's no surprise that very little physical action has been taken to end the issues that suffocate the British public.
Related content:
Art for Youth London raise funds for charity 
The Voice of London decided to visit the people that are making small steps to combat the impoverish and unjustified divide that the country is experiencing. First hand.
The Felix Project is one of many volunteer led organisations that are attempting to tackle a huge issue that encapsulates the UK.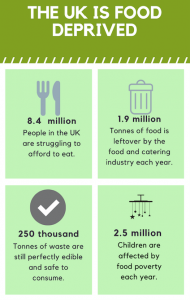 (All statistics provided by Unicef and FareShare)
The project was created in memory of Felix Shaw. Felix was an active individual who would regularly play football. His parents reported he was saddened to hear that many of his teammates did not have access to nutritious meals.
Felix died suddenly from meningitis in 2014. As a way to commemorate him, Felix's father created The Felix Project and promised to make a difference.
What is The Felix Project?
Currently the project has two depots-one in Acton and one in Enfield. The team also regularly travel into central to collect and distribute food within the same day- these are usually foods and meals with a shorter shelf life.
Throughout the year they run many volunteering campaigns and events that anyone can be a part of. If you want to contribute to the movement of fighting food poverty find out more at:  www.thefelixproject.org.
Words by Peri Taskiran
Video/footage by Peri Taskiran
Featured Image by The Felix Project