Despite Tyson Fury's controversial, crude and over exaggerated character, has his personal issues allowed his outlandish persona to be understood?
Reporter: Alex Zendra
Tyson Fury, the unconventional, weird, outrageous British boxer who accomplished an unlikely task, ending the decade reign of- Wladimir Klitschko- in their fight. The Britton- Fury saw his stock had risen from defeating the Ukrainian world champion- from the boxing community. Not exactly from the entire British public.
Many people understand the former heavyweight champion of the world to be, brash, arrogant, rude and a weird character-… but an excellent pugilist. Tyson had left remarks which the media understood as sexism, anti-Semitism and homophobia.
Statements such as "Zionist Jewish people own all the banks all the papers and all the TV stations", "women should be in the kitchen and on their back" are statements which the media ate up which tarnished respect that the public had for the reigning heavyweight champion; shining a negative spotlight on his image.
His outlandish, loud and over exaggerated persona became apparent soon as he started flipping tables at press conferences and claiming he is the best in his first encounter against Derek Chisora in 2011.
https://www.youtube.com/watch?v=KS0dDUwSNkc
Despite this, you either love him or hate him. British boxing pundits acknowledge Tyson Fury's boxing prowess despite his interesting and unconventional character, in a sense of honesty. And similarly the nation followed, after capturing the heavyweight titles from kingpin Klitschko, nominating the new king of the heavyweight division, for Sports Personality of the year award.
Later this year, the champion failed a drugs test by (VADA) the Voluntary Anti-Doping Association. Fury tested positive for banned substances, showing evidence confirming that Mr. Fury was taking cocaine. He was then labeled "Fury Montana" as a parody of the champion from the hit film 'Scarface' over social media.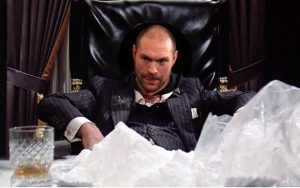 This therefore led to Tyson Fury being stripped of his titles and license. Thus the new world champion retired, relinquishing his dream that had become a reality, also announcing he has been suffering from depression. However this had been starring at the media for years; ultimately Tyson had told us about his mental state before it had been topic in the media. From his interview with Oliver Holt; "I was having bad days every day. Waking up in a bad mood, going to sleep in a bad mood daily. And it was because I took my eye off what was right and what was wrong. I went down the road of man. Every time I do that – take my eye off the Lord and go down what I want to do as a human being, what we are all programmed to do – it goes wrong for me."
Admittance of his psychology were better described in "The Gloves are Off" with his sit down with Wladimir Klitschko. Tyson's explaining his depressive traits were quite vague in previous interviews, but it all appears transparent in this discussion: "I'm the type of person to wake up in a good mood… and then ten seconds later I'm in a bad one"
"I actually accused Wladimir of being an emotional wreck in the press conference, but I actually rephrase that… he's a stable person he's normal… very good at boxing, very good at his job, look at him he's in great shape, look at me."
"I'm the emotional wreck, me!"
"I'm the mad one I think I'm screw loose sometimes… I can wake up in the morning, everything's fine, the afternoon I could commit suicide and it's the same with everything I do"
"I'm what you call special people have to be, sometimes, eccentric emotional fools…"
This is at no surprise as the governments are slack with mental health-in general. Similarly if such a powerful tool such as the media cannot be used to identify a man's condition, through a number of years, it only affirms still how far behind we are. This scenario should be applied to raise awareness for depression, additionally as it is known that depression can also lead to suicide, which is one of the biggest killers amongst men in Britain. Similarly, it's further disheartening as there have been cuts to the public health budget; moreover only 0.9 percent of that is invested in mental health- the Metro found.
Three out of four suicides are committed by men, despite Tysons exaggerated antics further given by his confessions of his character in particular interviews, his condition was always apparent. It is moreover a shame that neither the British media, nor many people noticed the champion's condition and is a testament that the little focus on mental health is a joke.