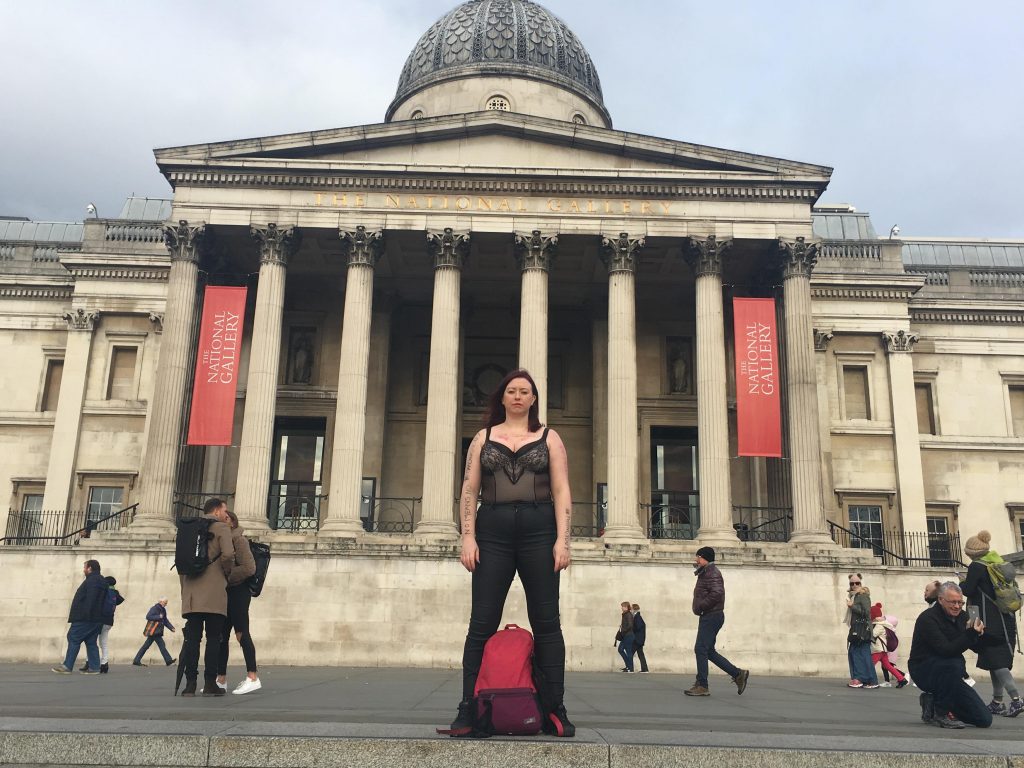 More than one year in since the #MeToo movement has emerged and yet, prejudices that lie around sexual victims aren't put to rest. The case in Cork at the beginning of November sparked outrage after a senior defence barrister used an alleged rape victim's choice of underwear as consent to sex.
During the trial, the defence lawyer Elizabeth O'Connell told the jury: "You have to look at the way she was dressed. She was wearing a thong with a lace front."
It was enough for the statement to cause consternation, increase media attention, and women to take to the streets carrying lingerie tied to placards as a sign that clothes do not mean consent.
The hashtags #IBelieveHer and #ThisIsNotConsent have quickly erupted on social media, thousands posting pictures of their underwear on Twitter which led to protests across Ireland including Cork, Dublin and Belfast.
Can shops start to advertise "Rape" and "Non rape" underwear please?
I need to know what I'm signing up for when I pick up some underwear.
Wouldn't want to contribute to a man's right to rape me now, would I? #ThisIsNotConsent
I don't want to be a woman in this country.

— Leanne (@Gandalfbbz) November 16, 2018
So just because I or anyone else wear lacy underwear, I'm "asking to be raped?" K next time I see someone wearing expensive jewelry I'm gonna steal it because clearly they're asking for it 🤷🏻‍♀️ #ThisIsNotConsent

— Jordan 😵‍💫 (@JordanRoccesano) November 16, 2018
Bodily integrity is key to achieving gender equality but yet 1/20 women in the EU have been raped 📢 Consent education, ending judicial victim blaming & social rape myths is part of how we do this 👊 #ThisIsNotConsent #IBelieveHer #HearMeToo #EndVAWG #stopviolencesfaitesauxfemmes pic.twitter.com/4c7rcezx6f

— Young Feminist Europe (@YoungFeministEU) November 25, 2018
Less than 2 hours to go until the @UniofOxford students protest in support of the #ThisIsNotConsent movement! See you there with your laciest underwear as we fight back at victim blaming! Women have the right to support in court! #thisisnotconsentox #IBelieveHer #thisisnotconsent pic.twitter.com/NKKMtxlUdN

— Bryony Streets (@bryonystreets) November 23, 2018
Dagny doesn't seem that impressed with #ThongsOut for #ThisIsNotConsent, which is weird cos this pussy always makes it very clear when she wants to be touched… pic.twitter.com/Kd5H14KlOT

— Jenet Le Lacheur (@JenetLeLacheur) November 26, 2018
Thongs Out to show that NO means NO
In an interview for the Voice of London, Natalie Durkin – actress, radio producer and presenter at Women's Radio Station, marketing manager at the Actors' Temple and founder of the Thongs Out campaign – talks about what it takes to advocate for the cause you believe in, how to embrace failure and turn it into success and the role of media nowadays.
"Thongs Out is for everyone to get involved in a simple way: tie a thong, loudly and proudly to your handbag, briefcase or bicycle. Take it to your office, meeting, or while on public transport so you can help change how we protect rape victims. "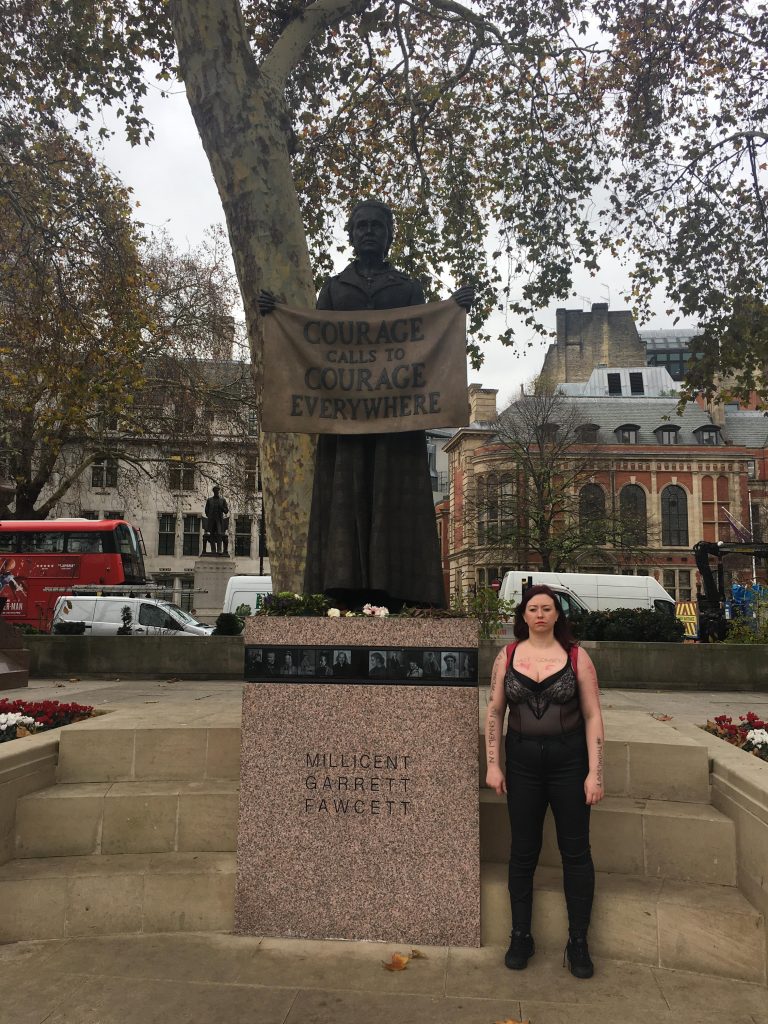 How bad is the situation in the UK?
Voice of London had a look at the statistics related to sexual offences in the past year released by the Office for National Statistics in collaboration with the Crime Survey for England and Wales.
Below some of the highlights: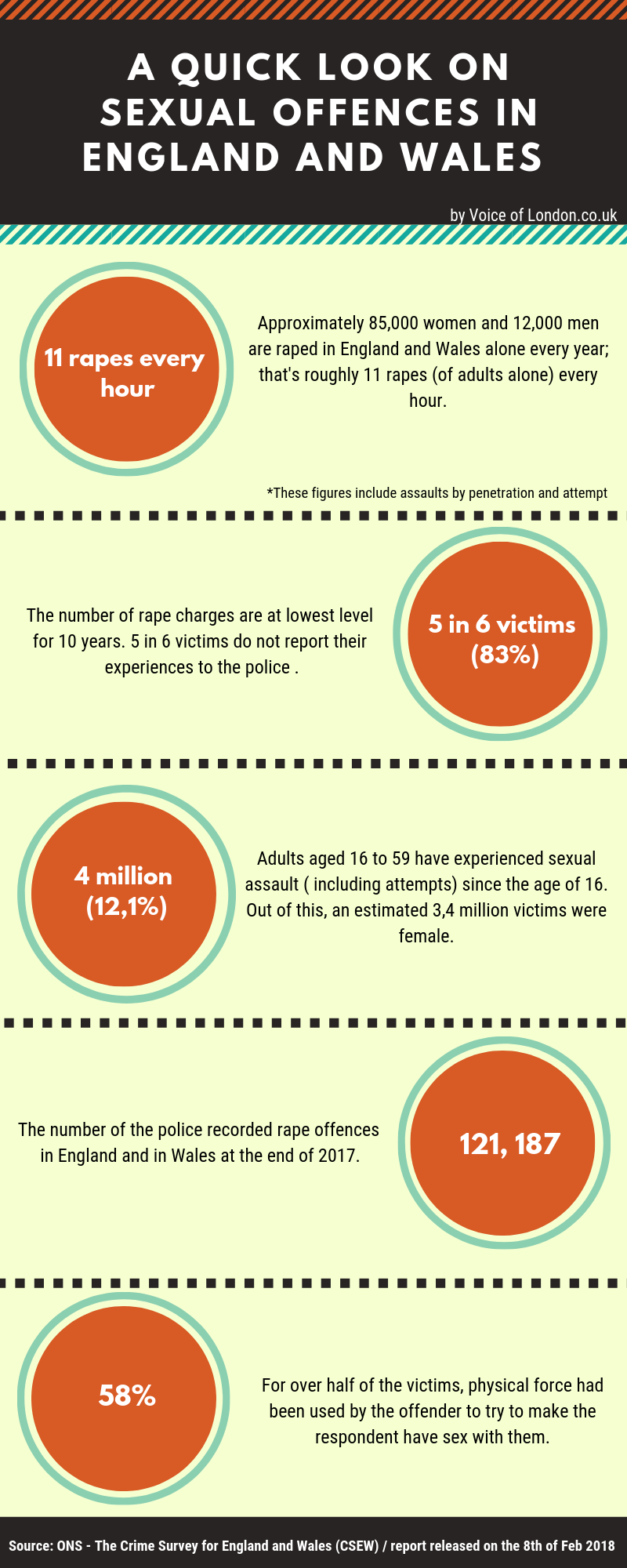 Where can I get help?
Here are a few non-profit organisations that provide a wide range of services from one to one counselling, support groups and workshops to non-stop free telephone helplines ready to access:
[googlemaps https://www.google.com/maps/d/u/0/embed?mid=1-kbQ_R9Ec1IQ7W90g0bMMG6XO-9XAGqt&w=640&h=480]
Words, pictures, infographic, map and audio: Teodora Agarici | Subbing: Maria Campuzano