December is the most tempting month of the year to leave the country in search of much-needed heat. In some ways it might be true that 'no one does Christmas quite like London', but there's something special about whisking away to escape the bitter cold. Swapping winter chills and cracked blue lips for sun-kissed skin and sandy toes was never a bad idea.
With Christmas fast approaching, we have gathered a small collection of the best holiday destinations for last-minute getaways that will truly give you the travel experience of a lifetime.
1. Rio de Janeiro, Brazil
Average temperature: 28°C
Rio prides itself in being gloriously hot during London's winter season, not to mention its stunning beaches along the coast of the South Atlantic Ocean. Brazilians are known for their infectious party culture, especially during New Year's Eve when millions of people make their way to Copacabana Beach to admire the incredible firework display. The four-kilometre stretch of sand allows tourists and locals to celebrate like mad until the sun rises the following day. With other major tourist attractions like Christ the Redeemer, Brazil is an absolute must for this time of year.
For a local guide on the best things to see and do in Rio, visit:
https://www.skyscanner.net/news/10-best-things-do-rio-locals-guide
2. Melbourne, Australia
Average temperature:  25°C
Melbourne is the second-largest city in Australia, with a population of nearly four million. During December and January, locals and holidaymakers enjoy around 11 hours of sunshine everyday, as well as some of the best bay side beaches in the country. There is also plenty of wildlife and sea life to visit, including koalas, kangaroos, penguins and whales.
For more information on what Melbourne has to offer, visit:
http://www.visitmelbourne.com/Regions/Melbourne
3. Phuket, Thailand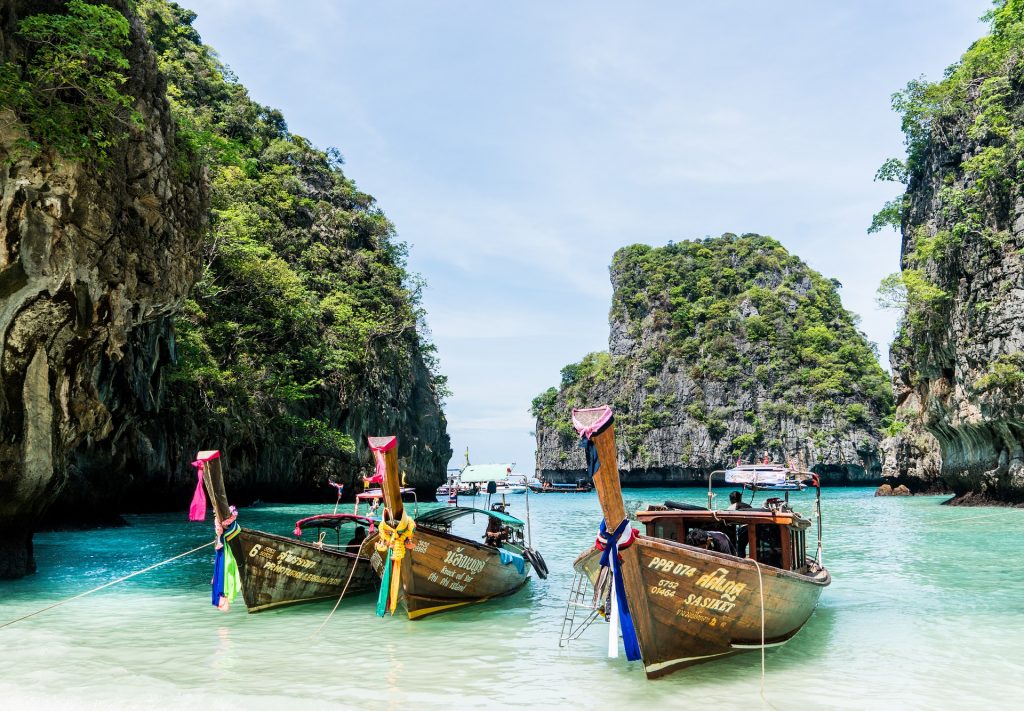 Average temperature: 31°C
Phuket is Thailand's largest island, attracting more than five million tourists every year. In December, visitors have the luxury of enjoying miles of silky sand and clear turquoise waters almost completely free of rain. And if you are not a fan of crowdedness, there are several pockets of paradise waiting to be discovered around the island, including Kata Noi, Laem Singh and Ao Sane. These 'secret beaches' are perfect for chilled afternoons of sunbathing and relaxing against the calm aqua waves.
For further information on what Phuket has to offer, visit:
https://www.skyscanner.net/news/top-10-things-do-thailand-tigers-temples-and-muay-thai
5. Cancun, Mexico
Average temperature: 28°C
Cancun is the ultimate coastal destination in Mexico, packed with golden beaches lined with majestic palm trees and crystal clear waters. The Caribbean edge is blessed with dazzling heat throughout the day along with a touch of serenity in the evenings. Tourists can take their pick from a range of five-star resorts that are perfect for all couples and large families, and enjoy the many Mayan temples dotted across the landscape.
For the best hotels and resorts in Cancun, visit:
http://www.telegraph.co.uk/travel/destinations/central-america/mexico/cancun/hotels/
5. Singapore
Average temperature: 29°C
Singapore is often dismissed as just a layover destination in the middle of a longer journey. But it is actually much more than a place to stop and change planes. It is the second-smallest city in Asia, bursting with authentic food, culture and diversity, along with hints of its British colonial past. Tourist attractions include Universal Studios, Gardens by the Bay, the iconic Merlion and the Marina Bay Sands, with its astonishing infinity pool that overlooks the bustling Central Business District. Singapore is also home to the best airport in the world, Changi Airport.
For more information on visiting Singapore, visit:
https://www.lonelyplanet.com/singapore
So what are you waiting for? Book your tickets now to enjoy the greatest Christmas getaway of your life!
Words: Jessica Kwan | Subbing: Asya Gadzheva