We get that you feel the impulse to take a picture of your food as soon as it reaches the table, but December is about sharing. And drinking. And overeating. So put your instagram away and enjoy some quality time with comfort food and your favourite humans without technology getting in the way.
WHERE: The Duke – Wanstead • WHAT: Giant Jenga
Wanstead is far enough to escape the Christmas shopping nightmare but not too far to regret stepping on the tube and leaving your bed. Its pacific atmosphere is perfect for whoever wants to take a break from kicking fellow rivals to buy discounted gifts. The Duke offers pub classics in generous portions, cooked to perfection. The meat is juicy and the fries are crunchy and not drenched in oil (not so obvious to find as someone might think). But the real star is the MASSIVE JENGA. Yes, you ought to be a tad adventurous to play for hours in December, but it is worth it. You might want to ensure it's sunny outside before venturing on the north-east longitudes of the central line.
WHERE: Wahaca (almost any location) • WHAT: Football table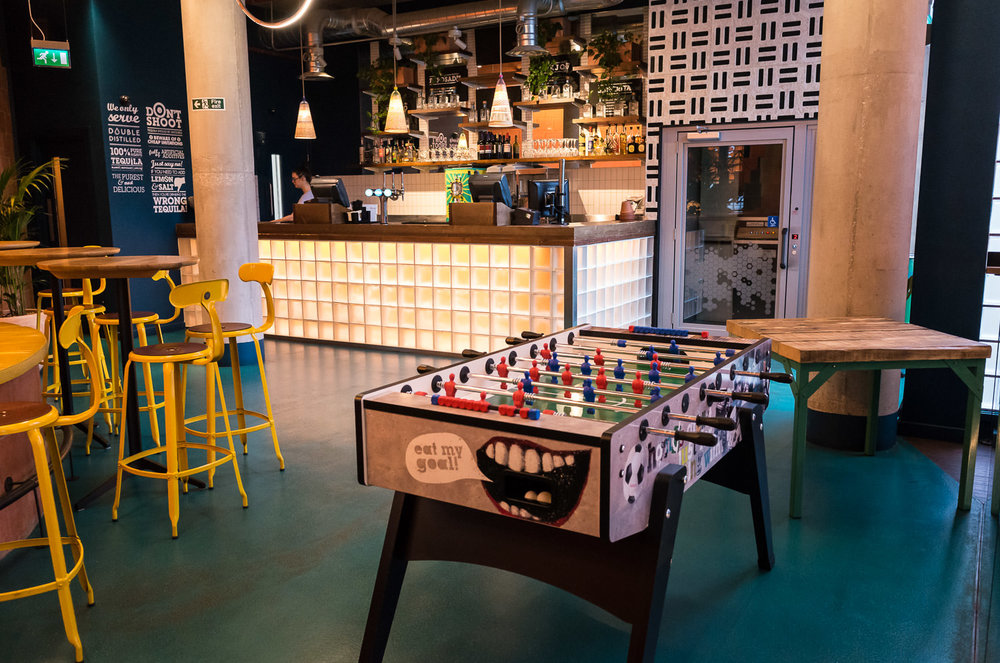 Wahaca is not only nest of mouth watering mexican food and drinks – Its Margaritas are to die for – but it also features football tables to keep you entertained while you hoover tortillas and guacamole. Plus, with so many locations popping up in every side of London, you will bump into one without even noticing.
WHERE: Draughts – Hoxtons • WHAT: 600+ board games
Located in Hoxton (where else), Draughts might be a problem for the undecided ones. With 600 – and counting – board games and a lovely mix of Italian comfort food, Halloumi based dishes and avocado appearances, it's just the right place for a rainy afternoon.
WHERE: The cock tavern – Fulham • WHAT: Darts
With its quirky furniture and a hidden garden in the backyard, you can get from Fulham to Alice in Wonderland in a handful of seconds. In summer. If it's still ice-glazed outside, push the door and get cosy in the warm, colourful interiors of the Cock Tavern. Beer is fairly cheap and you can find a good variety of draught. The food is cooked to very high standards, in good looking canape style (but no instagram this time). You can head there in cold weekends and drink your stress away while playing darts. You might have to queue for a few hours, but that's part of socialising.  
WHERE: Queens the diner – Queensway • WHAT'S THE DEAL: Skating, bowling, games
Its proximity with one of the most charming spots of Hyde Park, Kensington Gardens, makes Queens perfect for an all day activity. You can take a stroll in the beautiful surroundings of Kensington Palace, feed the ducks and warm up with one of the many burgers Queens offers before skating the calories away on the ice rink. The interiors, neon signs and menu take you right back to the flowery seventies. Grab that nostalgia with a smoothie and don't worry If you're not a skate type, there's also bowling, ping-pong and football tables.
Words: Giulia Trinci