In today's society being a woman is hard. We are still having to fight stereotypes, old fashioned mind-sets and we also have to learn to love ourselves in a world that is social media-driven. We have come a long way and are breaking down boundaries that a large majority of people thought was impossible, but we still have a long way to go. Even in 2019 there are underlining issues when it comes to gender, such as the pay gap and there are also still jobs that are seen as 'male' roles. It's shocking, right? You would think that in 2019 this dated and unethical way of life would be history.
Stacy Gregory, 27 is an example of a woman who did not let any of this hold her back from her dream job and goals. Stacy was chosen by one of the biggest shipping company's in the world, P&O to take part in an apprenticeship that enabled her to make a massive achievement and gain tremendous success. She is now one of the first-ever women Able seaman.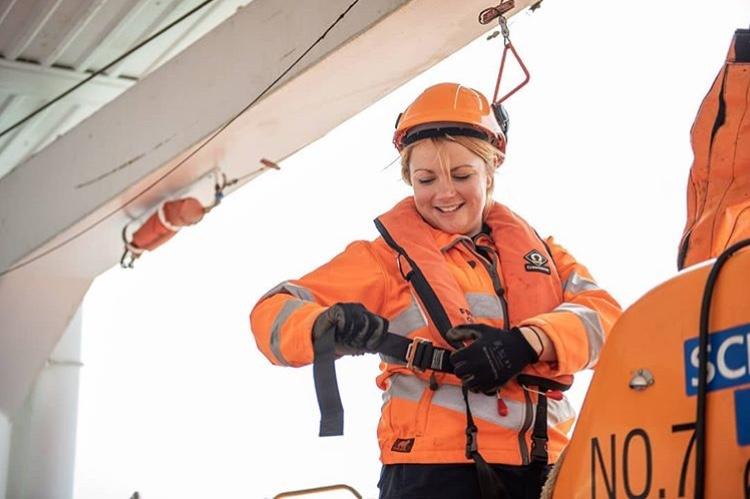 She never let gender stereotypes hold her down or make her forget the reason why she wanted to pursue a job in this particular field in the first place. The role of an Able Seaman consists of many different roles, they do rope work, splicing, generalship maintenance, operating hand tools, damage control, throwing heavy lines, lifesaving and so much more.
"Just the other day there was a man overboard emergency. An immigrant had been spotted about 11 Nautical miles off Calais. I was part of a three-man crew on a rescue boat. The boat was launched into the sea and we had to fight the rough weather to get to him. After a lot of effort from me and one of the other crew members, we pulled the casualty out of the water. The man couldn't speak English so our primary goal was to keep him warm and return him back to the ship where the first aid team could take care of him. From the man being spotted and getting him on board the ship, we did it in an amazing 16 minutes."
One of Stacy's first-ever jobs was working as a stewardess on ferry's at the age of 19, she worked hard and long hours within this particular job until the age of 21 when she then decided to venture out and travel the world. Whist travelling, she worked on tour boats within Zealand for 2 years as a Deckhand. This is where she came to understand her love for the ocean and that this was the career path she wanted to continue when she returned home. Once she returned to the UK she undertook an apprenticeship.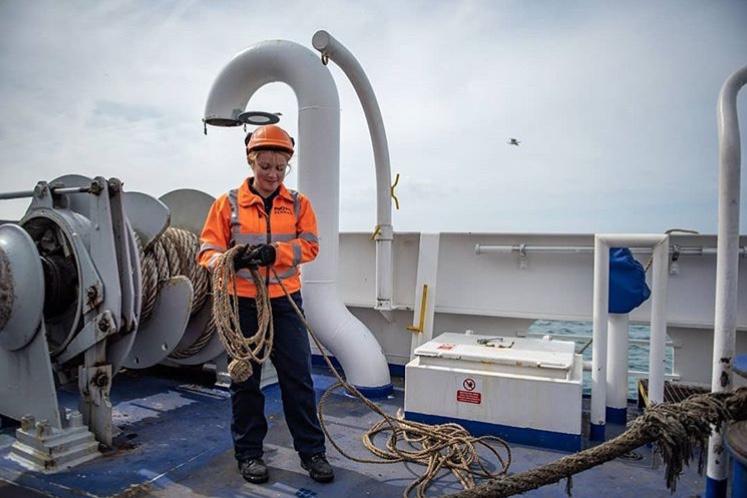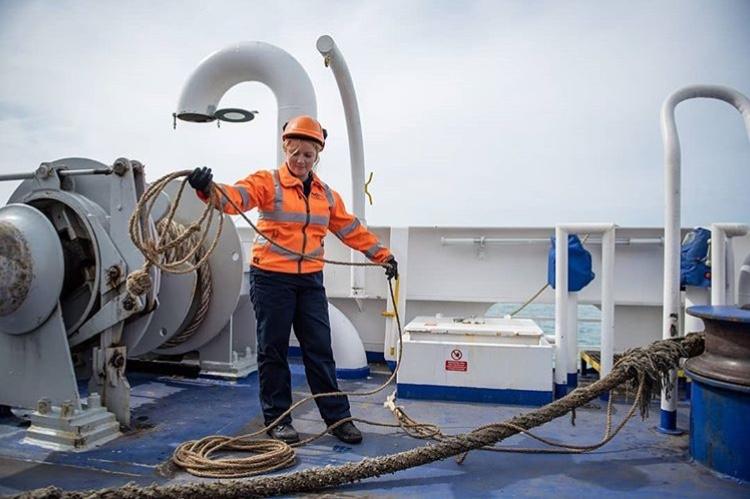 The scheme was a 2-year course where she had to work alongside an experienced Abel seaman. Here she learnt basic ship knowledge such as rope work and undertook several courses such as a lifeboat course, PST (personal sea survival), fire fighting, first aid and also the operating and launching of fast rescue boats. During the course, she faced many hurdles and overcame the many gender stereotypes that came with wanting a place within this particular male-dominated role. This particular role involves a lot of manual handling like pulling heavy ropes along decks and throwing heavy lines, at first Stacy found this a bit of a struggle but she continued to grow and thrive.
"I definitely feel like you have to prove yourself more as a woman in a male-dominated industry. Especially in the deck rating department as it is primarily male. I felt like I just had to get stuck in and not just stand in the side-lines. It's always daunting starting new ships and having to prove yourself all over again."
A massive high and achievement for Stacy were in October 2019 when she graduated her course and became the first-ever women Able seaman. When she first started the job Stacy admits that there was definitely a lot of controversy and questions towards her for why she was within a job that isn't seen 'fit' for a woman.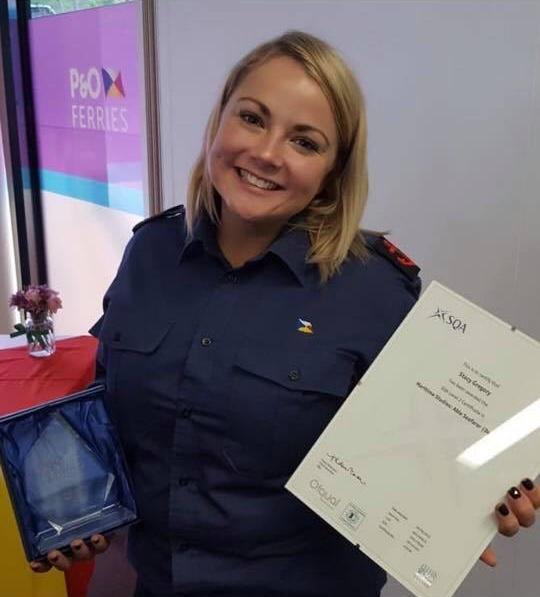 "When I first started I definitely got a few looks and questions such as "what makes you want to do this?". My simple answer was "well the same reason you did." I was also told a lot that this job is not for a woman. I had to prove myself and always go that extra mile, but after all this and showing that I can do that job just as well as any man, these looks changed."
Stacy is a very confident and strong woman and she believes this was extremely beneficial on her journey to getting what she deserved and her place within the team. Even though she does not agree with the stereotypes she faced she understands that as it was a male-dominated role for a long period of time and that the majority of the men she works with have been at sea for a long time and it was a first and massive change for them having to work alongside a woman.
"I am treated equally now, the guys are always encouraging me and shouting "go on girl." The support I get from all the guys is amazing. As a woman in this choice of career, you have to be able to hold your own, have a good sense of humour, laugh at yourself and definitely be strong-willed."
When Stacy first started on her journey to where she is today she felt that being a woman might have held her back due to strength being a massive part of the job, but as she has achieved a great deal and her love for her job continues to grow she has come to realise that this was all in her head. She proves herself more and more every day and is a living example that women can do anything that a man can do.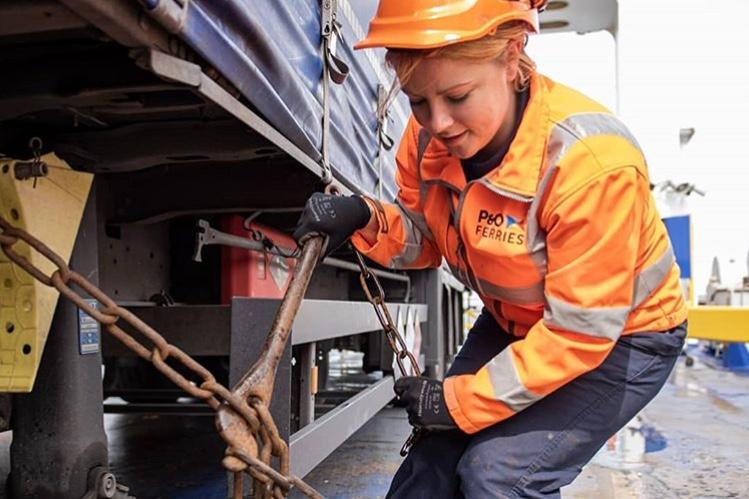 "If I could tell women out there who feel held back within the job scene due to their sex it would probably be we can do it! You may be to go that extra mile to prove yourself but when you do it's 100% worth it. I don't want to sound cheesy but you can do anything if you put your mind to it."
Stacy is a woman who never let society's stereotypes hold her back, she loves her job and is good at what she does, these are two of the many factors that pushed her to never stop working and achieving. Her determination and confidence got her to where she is today. A lot of women today feel like their gender is a barrier when it comes to certain situations within life, this is extremely prominent within the job scene. Being a woman has nothing to do with what we can attain, it has nothing to do with what job we pursue and it definitely does not hold us back.
[soundcloud url="https://api.soundcloud.com/tracks/716908234″ params="color=#ff5500&auto_play=false&hide_related=false&show_comments=true&show_user=true&show_reposts=false&show_teaser=true&visual=true" width="100%" height="300″ iframe="true" /]
Stacey will be featured within the P&O timeline which is on display at the National Maritime Museum in London: Free entry – Open daily from 10am – 5pm
Words: Emily Boorman
Images: Stacy Gregory
Audio: Emily Boorman