It is becoming more and more popular to buy seasonally. This is not only healthy for the planet, but you aren't consuming fake fruit that has only grown in completely fake environments. Strawberries in October! You can't be serious. 
It is also becoming increasingly easy to buy organic produce that has come from local farms, with many people now choosing to visit farmers markets instead of supermarket aisles. However, for many, it is still a struggle to find healthy seasonal food without breaking the bank. 
Voice of London has put together a few of our favourite autumnal recipes to help you find something to warm you up against the fire this halloween. 
Sweet Potato and Butternut Squash Soup
Pumpkin Fries

 

Halloween Chocolate Apples
Sweet Potato and Butternut Squash Soup
Ingredients:
1tsp olive oil
1 large white onion, diced
1 large sweet potato, peeled and diced
1 butternut squash, peeled and diced
900ml Vegetable stock

 
Method: 
Put oil in saucepan, and soften onons
Add sweet potato and butternut squash and stir for one minute
Add the vegetable stock, turn down the heat and let simmer for 45 minutes
Use a hand blender to blend the ingredients together (be careful) to a smooth texture.

 
Serve hot with crusty bread!
http://allrecipes.co.uk/recipe/16989/butternut-squash-and-sweet-potato-soup.aspx
Pumpkin Fries
Ingredients:
1 pumpkin, gutted, sliced into strips/fries
2tbs cornstarch
1tbs curry powder
DIP (optional):
Greek Yogurt
Mayonnaise
Paprika
Garlic
Method:
Rest Pumpkin slices in Ice cold water for at least 1 hour to reduce starch

 

Place them on a baking tray. Sprinkle over the cornstarch and the curry powder
Place pumpkin in the oven for 20-25 minutes, turning when they are brown and crispy
Make dip by crushing garlic and mixing ingredients together
Serve with Salt and Garlic Dip
https://www.aldi.co.uk/pumpkin-fries/p/000000105896600
Halloween Chocolate Apples 
Ingredients:
3 bars of chocolate
Apples
kebab skewers
decoration (hundreds and thousands etc)
Method:
Take apples, wash them in cold water to reduce waxy seal

 

Skewer the apples on the Kebab sticks
Melt Chocolate – break the chocolate into a bowl and melt over a saucepan of boiling water
Dip Apples into Chocolate and decorate

 

Place on to Parchment paper and place in Fridge to cool

 
Season table: https://www.bbcgoodfood.com/seasonal-calendar/all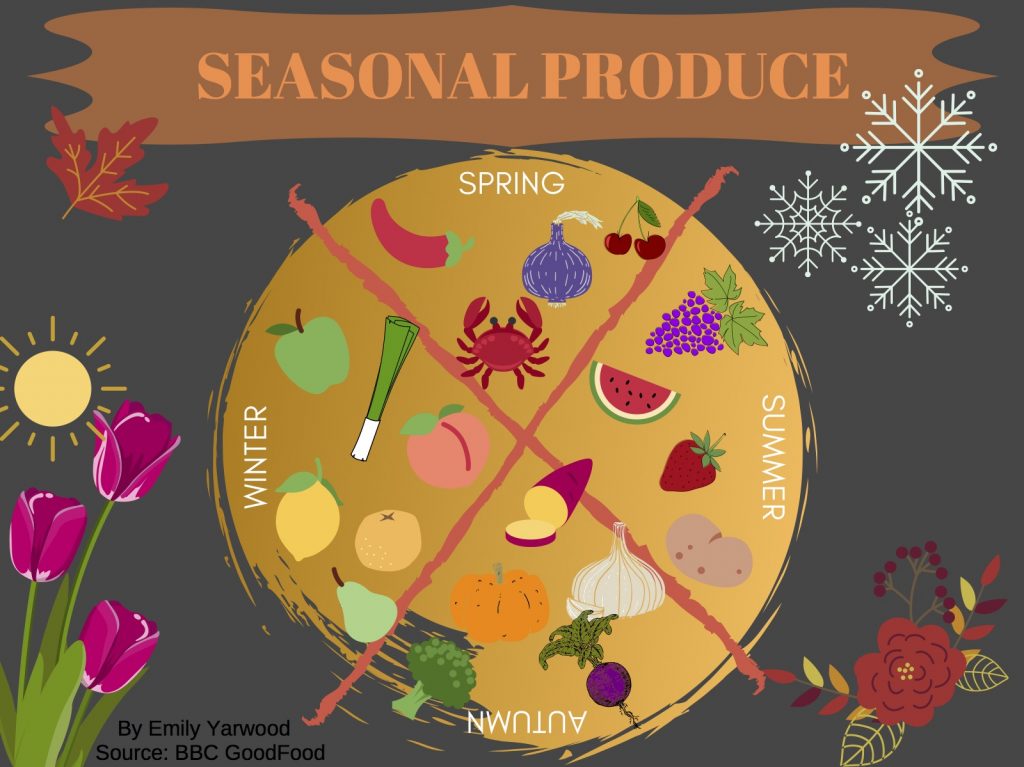 Words: Emily Yarwood
Photos: Emily Yarwood