This week Voice of London met with Lemzi, whose real name is Alex Lemom, a rapper from East London. 
Inspired by the likes of Kano, Dr Dre and the legendary Eminem, the UK hip-hop artist has been active in the rap and grime scene since 2016 when he chose to take on music full-time. 
Lemzi uses his music as a tool of self-expression and writes about concepts and narratives that his audience can relate to. Lemzi's music raises awareness on issues that affect London culture such as the wealth gap and mental health. 
Born and raised in Leytonstone, Lemzi went to University of Manchester to study Law and Criminology but changed career paths after graduation, "after I finished my degree I decided to take my music more seriously and turn it into a career. I want to express my ideology through my art therefore I rap about whatever is making me feel." 
His love and passion for rap and grime blossomed due to the growing popularity of the industry in the early 2000s. Since deciding to follow his dream of being a rapper, he's come far, "I started in studio space and now I'm in new spaces, working around the country with new artists."
Performing with a live band, Lemzi's audience mostly consists of mature young adults who are attracted to the jazzy instrumentals featured in the artist's music. Having released his debut album at the end of 2018, the rapper has gained a loyal fan-base which continues to grow as his music reaches more people. 
"I've done a lot of open mics and collaborated with many other artists so I'm well-networked and have a respectful platform which is growing.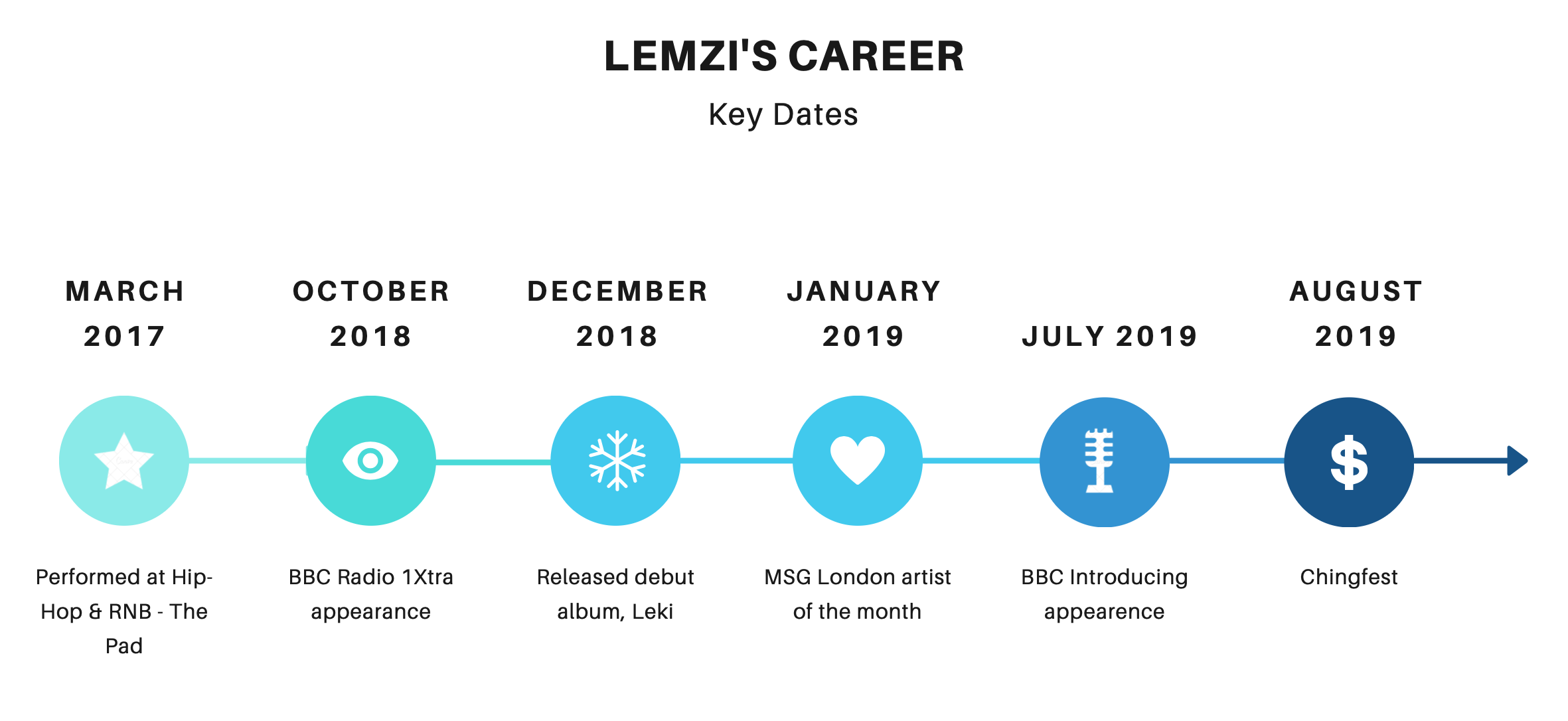 Lemzi has had various radio and TV appearances as well as live performances, sharing "one of my favourite experiences was in August of this summer, I co-produced and performed at Ching-fest festival."
The festival was held in his hometown, Chingford. 15,000 people attended including his friends and family. During his performance he sang his singles B.O.T.S, Figure 8 Flips and No Stress.
Lemzi is a strong believer in pairing words with actions, especially when it comes to fighting issues which affect London such as the growing wealth gap and knife crime. Therefore, he works closely with different bodies such as youth violence and mental health awareness groups. 
The rapper expressed his disappointment in the government and local councils whose efforts to make a difference are futile as they fail to see how these issues affect victims on a personal level, "Chicken Box was just a PR stunt, there are no actual measures put in place to prevent knife crime among young people in London. The government and local councils don't understand what's actually going on in the streets. They don't talk to the victims." 
Lemzi also raps about spirituality, relationships and enjoying yourself.
Lemzi plans to release more music in 2020 with the aim of taking his music worldwide. He wants to spread his ideas and concepts. The UK rapper is making moves in both the rap game as well as helping social issues in and around London. 
Lemzi will be one to watch in the UK music industry.
Words: Memoona Ali
Subbed by: Derrian Douglas
Photos: Clare Hebert