Since the beginning of 2017, 145 journalists and media workers have been killed according to the Committee to Protect Journalists. Jamal Khashoggi's case has caught the world's attention due its extreme nature and circumstances, but he was only one of many journalists whose life came to a gruesome end in the past two years.
These are the main events and facts leading to and following the death of Jamal Khashoggi that are important to understand:
Before
Prominent journalist in Saudi Arabia
Had close ties to the Saudi Arabian royal family
Spent time serving as a government adviser
Moved to USA when things soured for him in Saudi Arabia
Wrote a monthly column for the Washington Post in which he criticised the Crown Prince of Saudi Arabia's policies
Told the BBC's Newshour programme "The people being arrested [in Saudi Arabia] are not even being dissidents, they just have an independent mind" just days before his disappearance
Travelled to the Saudi Arabian consulate in Turkey on September 28th but was told to return on October 2nd to receive his required document
Reportedly assured people close to him that he had been treated warmly on his first visit (September 28th) and had no concerns about returning a few days later
Arrived at the consulate approximately 15 minutes early for his scheduled time
Allegedly killed within hours of arriving at the consulate
Last column was a call for free press in Saudi Arabia
After
Saudi Arabia made various claims about what happened to Khashoggi, all of which aimed to drive blame away from Crown Prince Mohammed bin Salman.
For three weeks following the murder, President Donald Trump was careful not to put blame on Saudi Arabia because of the close ties the US has with the nation, but has now flipped the switch and said the Crown Prince could have been involved, and that those behind the murder need to be punished.
There are alleged audio and video tapes, held by the Turkish government, proving that Khashoggi was tortured and killed inside the consulate, but they have not been made public in their entirety.
Saudi officials refusing to allow Turkish law enforcement to search the well in the consulate as part of their investigation
Crown Prince Mohammed bin Salman describes Khashoggi's murder as a "heinous crime"
Outcry worldwide for justice and clarification
Even after his death, facts are being covered with messy lies and the truth is being distorted by corruption in power; the very things Khashoggi, and countless other journalists, fight to correct.
Khashoggi's story is tragic but it is not necessarily unique in terms of the reason for his passing. The graph below shows a breakdown of the number of journalists and media workers killed since the beginning of 2017.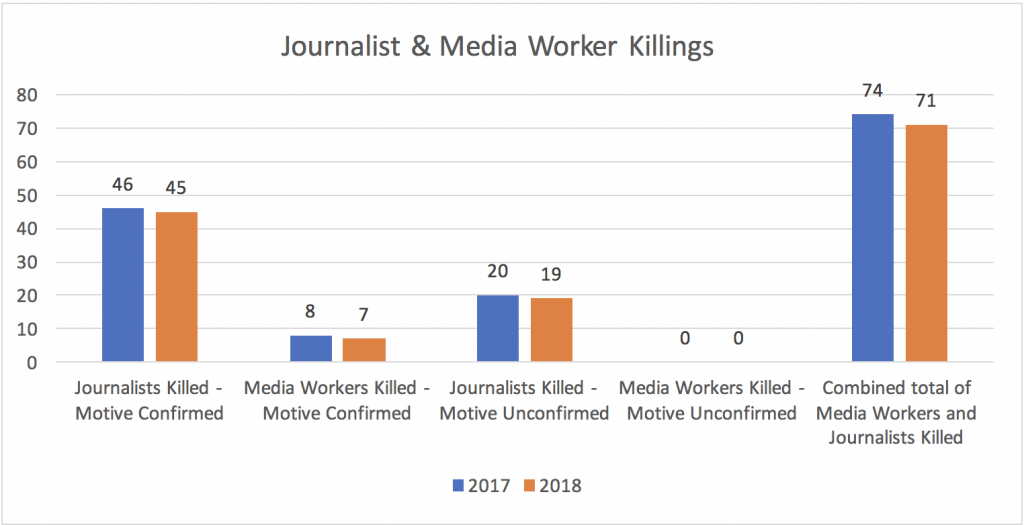 There were 74 journalists killed in 2017, so far in 2018 there have been 71. In the first three categories, 2018's journalist and media workers murder count is only one case behind 2017's. And it is only the end of October.
What does this mean for young, up-and-coming journalists and media workers aiming to hold power to account and incite positive change in society?
Anytime a journalist attempts to uncover a wrongdoing or hold any form of power to account, they are putting their life at risk due to the lack of effective protection for journalists in today's society. President Trump encouraging violence against reporters a week ago, stating "Any guy that can do a body slam, he's my kind of — he's my guy" only increases that risk, evidenced in the bomb packages sent to prominent liberal political figures and media outlets, including CNN, this week.
Dunja Mijatovic, former OSCE Representative on Freedom of the Media said "it is the job of journalists to report on issues of public importance and it is the job of authorities to ensure that journalists can do so without intimidation or threat" in response to the savage killing of journalist Daphne Caruna Galizia last year.
The outrage expressed worldwide in response to the murder of Jamal Khashoggi shows that society is aware of the importance of free media and the need to keep media professionals safeguarded, so that they may continue to inform. However, real protection for people in this industry of truth-hunting does not exist, even though there are always people, usually much more powerful and dangerous than the journalists themselves, trying to keep the truth under lock and key.
See also: 2018's call to end impunity for crimes against journalists
Words by Georgia Hansen | Subbing by Maria Campuzano
Featured image: "Saudi journalist, Global Opinions columnist for the Washington Post, and former editor-in-chief of Al-Arab News Channel Jamal Khashoggi offers remarks during POMED's 'Mohammed bin Salman's Saudi Arabia: A Deeper Look'" by The Project on Middle East Democracy is licensed under CC BY 2.0