Brexit is fast approaching, we are now just four weeks away from 1 January, and while we wait to know if a deal will be signed or not, here is a quick guide on what you need to know about the end of free movement:
Travel
The first thing you will need to consider when planning your next trip to Europe is time. Brexit will kill all of your last-minute-weekend-away ideas, as, from 1 January, trips to the EU will need more planning.
There are no changes to travel between the UK and EU in the transition period (except COVID-19 exclusions).

However from 1 January 2021, there will be new rules if you're traveling to the EU, Switzerland, Norway, Iceland or Liechtenstein.

Plan ahead: https://t.co/yxqsNJVTHd pic.twitter.com/EVJQo6LEJV

— GOV.UK (@GOVUK) October 9, 2020
The first thing you will need to check is your passport. On the day of travel, your passport must have remaining validity of at least six months and must have been issued less than nine years, six months before. This because in the EU, the crucial date for the validity of passports is the issue date (to which you have to add 10 years) and not the expiry date like in the UK.
But no need to worry, it is less complicated than it sounds: if your passport was issued on 1 January 2020, it will be valid until the same date in 2030, no matter what the expiry date says.
These rules apply even to those who still have the burgundy passport with the EU symbol on it. You will still be able to use it, but it will only be valid as a UK document.
When travelling to EU countries you will also have to queue with international citizens at passport control (the same goes for when returning to the UK) and you will have to declare the purpose of your visit, where you plan to stay, how long you are going to remain in the EU and any medical condition that could be a danger for public health.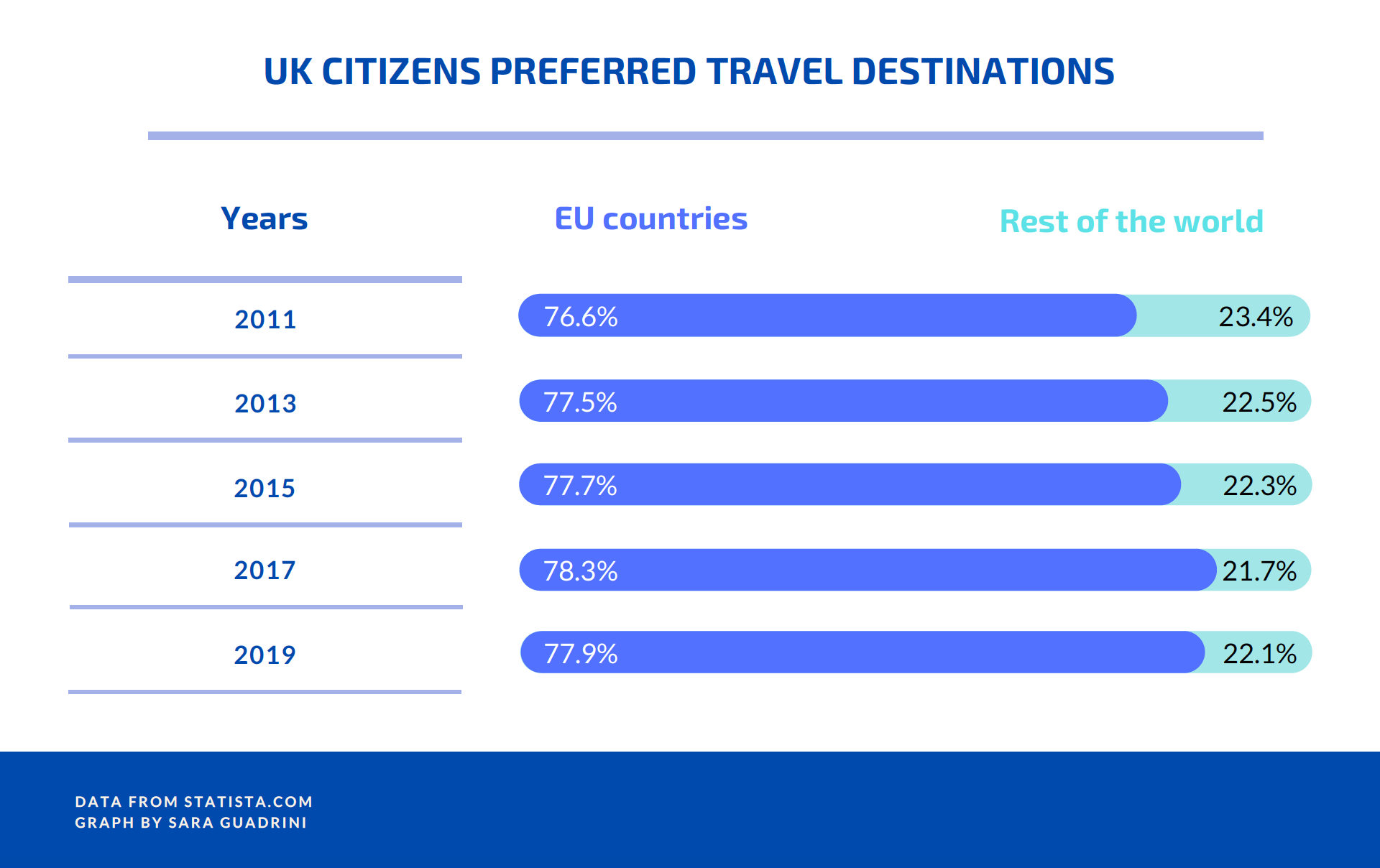 Now about timings. If you are only travelling to EU countries for a weekend or even a two-week holiday you will face no additional restrictions, but if you frequently travel to the EU for business or study, you will have a time allowance of 90 days every 180.
This means that as a UK citizen, you can spend in the EU a total of three months every six months without providing further documentation (and vice versa for EU citizens in the UK). In case you need to stay for longer, you will need to apply for a visa.
Study
EU citizens who have been studying in the UK before 1 January will be able to apply to the EU Settlement Scheme (they have until the 30 June, 2021 to do so), in order to continue living in the UK for the rest of their course.
There is still one year to apply to the EU #SettlementScheme.

3.3 million have already been granted status and there is plenty of support available.

We encourage EEA citizens and their family members to apply now. #SettledStatus

For information visit: https://t.co/2ta1NkpJ5a pic.twitter.com/hioO8XQebb

— Home Office (@ukhomeoffice) June 30, 2020
To move to the UK to study you will have to prove that you have been offered a place on a course, that you can speak, read, write and understand English and that you have enough money to pay to support yourself while in the UK.
For new applications, EU students will have to pay international fees, considerably higher than the home fees they could benefit from before Brexit. The UK government's financial support scheme, Student Finance, will also not be available for individuals beginning their course after 2021.
EU students will also need to apply and pay for a student visa (£348) before moving to the UK. Extending or switching your visa from inside the country will then cost £475.
For EU national students who will complete a degree in the UK, there will be a new graduate immigration route, which will allow them to look for work and work in the UK for two years (three years for PhD students).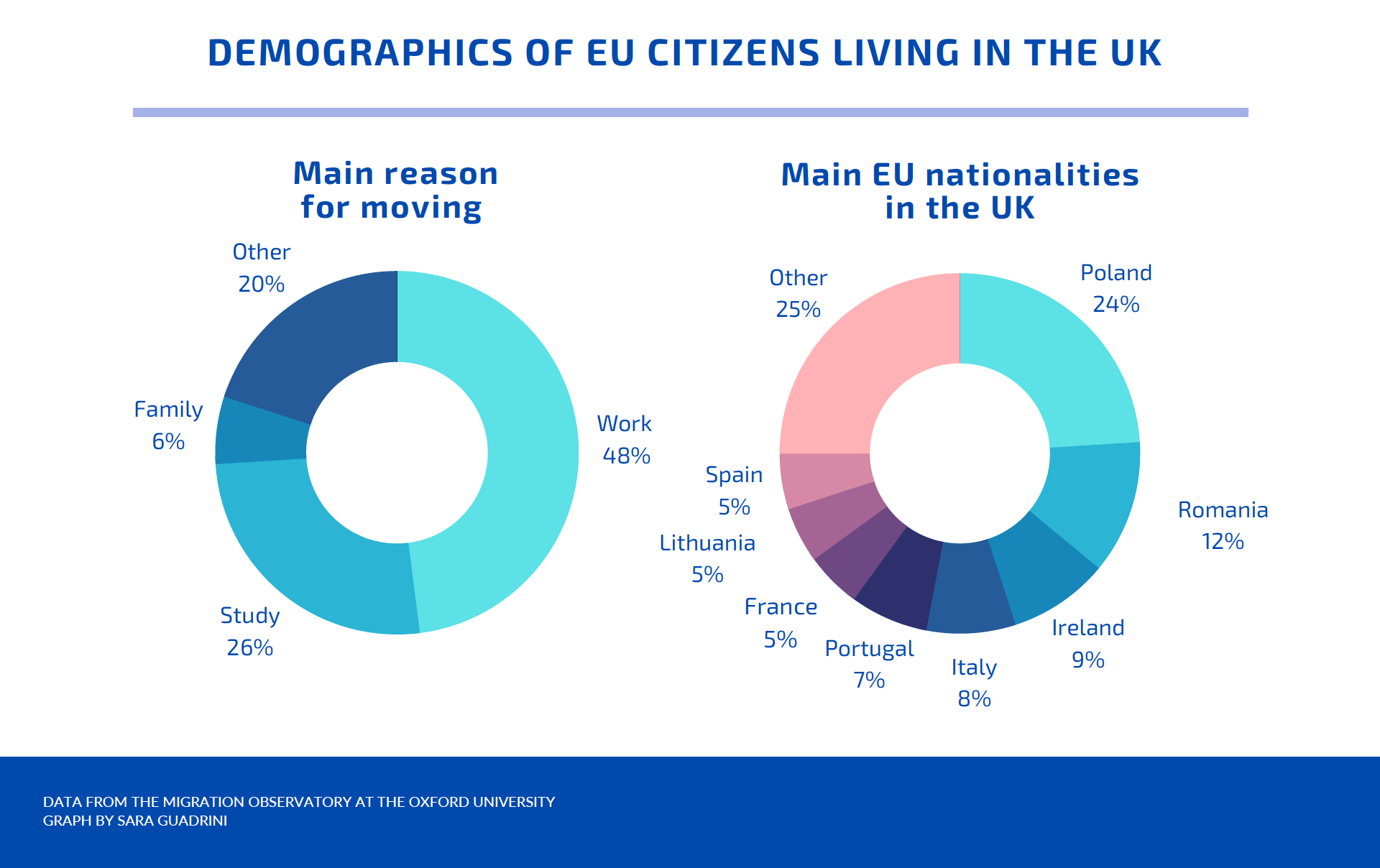 Work
As we earlier mentioned for students, if you are an EU national but have been living and working in the UK before 31 December 2020, you and their family will be able to apply to the EU Settlement Scheme to be able to remain in the UK (the same goes for UK nationals living in the EU).
If you want to move to the UK in 2021 or later, you will have to deal with the new points-based immigration system, which will put EU immigrants on the same level as immigrants from the rest of the world.
Because the purpose of this system is to only allow in the country skilled workers, new immigrants will have to prove how they will contribute to the UK economy.
From 1 January,  EU immigrants will have to prove to have a job offer in the UK by an approved employer. To reach the necessary points to be allowed into the country, the job will have to be at a required skill level equivalent to A level or above and must guarantee them to earn the relevant salary threshold (£25,600 is the minimum) or more. Besides, they will have to prove to be able to write, understand and speak English.
Additional points can be earned if they have a PhD, or if their job will cover a shortage of occupation in its sector, in this case, they will also benefit from a reduction of the costs of the visa application, which generally amounts between £610 and £1,408 for skilled workers.
Each country has different rules for living and working in the EU.

If you plan to live or work in the EU after the transition period, check the rules for those countries here: https://t.co/HVZaHlnm7E (1/3) pic.twitter.com/MQJPhx1KKB

— GOV.UK (@GOVUK) October 16, 2020
UK citizens planning to move to any EU country from 2021 onwards, should check that country's specific immigration rules, which may require to register for residency, provide specific documents or proof of a job offer.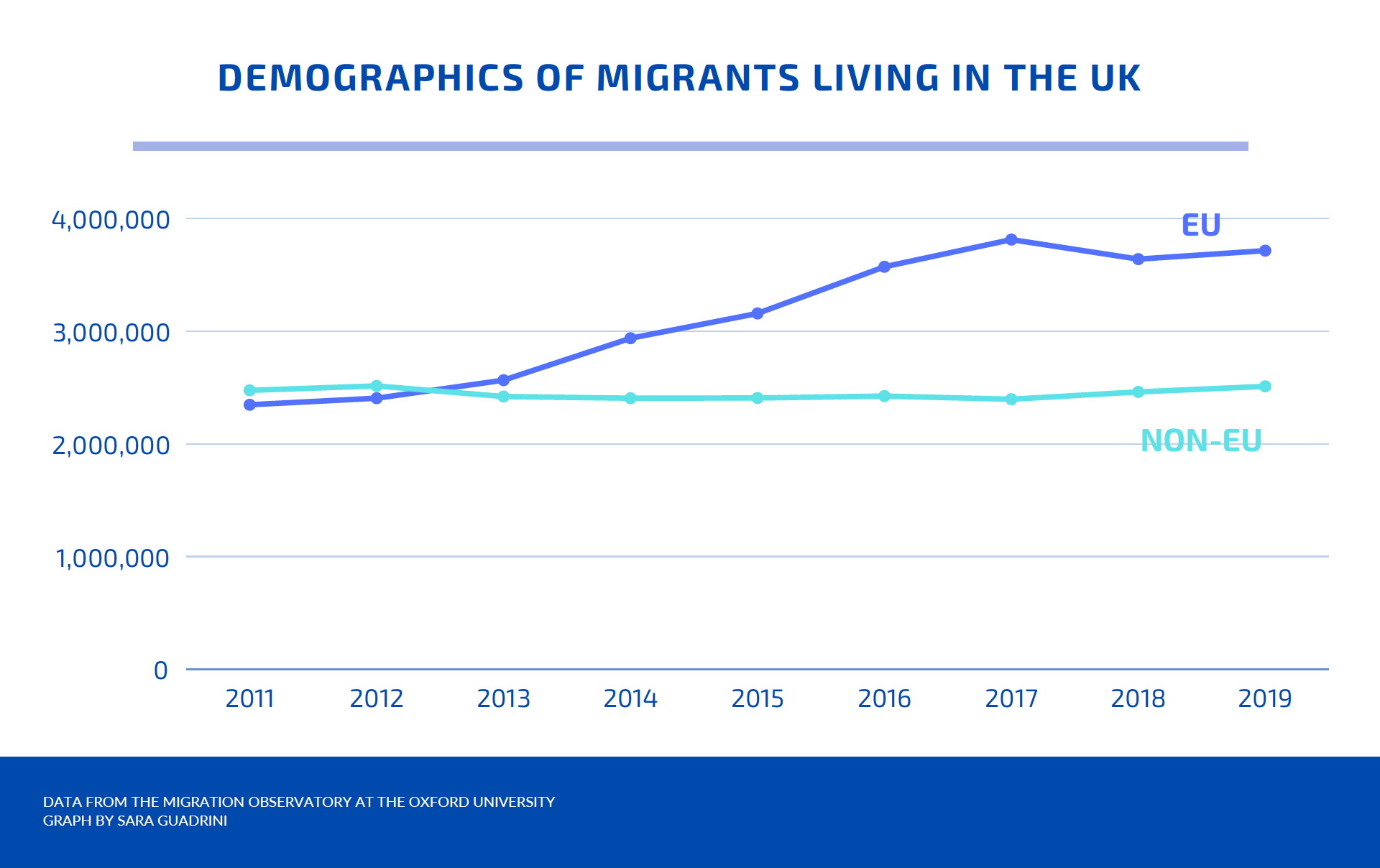 Data from 2019 shows that 3.6 million EU nationals live in the UK, making up 5.5% of the entire population and 8% of all workers. Immigration from the EU to the UK had been rising consistently over the years up until the Brexit referendum in 2016. It has been in decline ever since.
From 2015 to 2019, the number of EU citizens moving in the UK fell by 34%, a trend which is expected to continue.
Searching for more updates on Brexit? Look no further:
Data: Migration Observatory at the Oxford University 
Words: Sara Guadrini | Subbing: Connor O'Halloran