The latest figures from CIPFA (The Chartered Institute of Public Finance & Accountancy) show that the number of public libraries and paid staff in Britain are rapidly decreasing.
Almost 130 public libraries have closed in Britain in the last year, displacing 712 full-time employees. Meanwhile, the number of community-run library branches has seen an increase. Volunteer numbers have gone up to 51,394 people – a rise in 10,000 over three years – and volunteers are currently running over 500 libraries across the UK.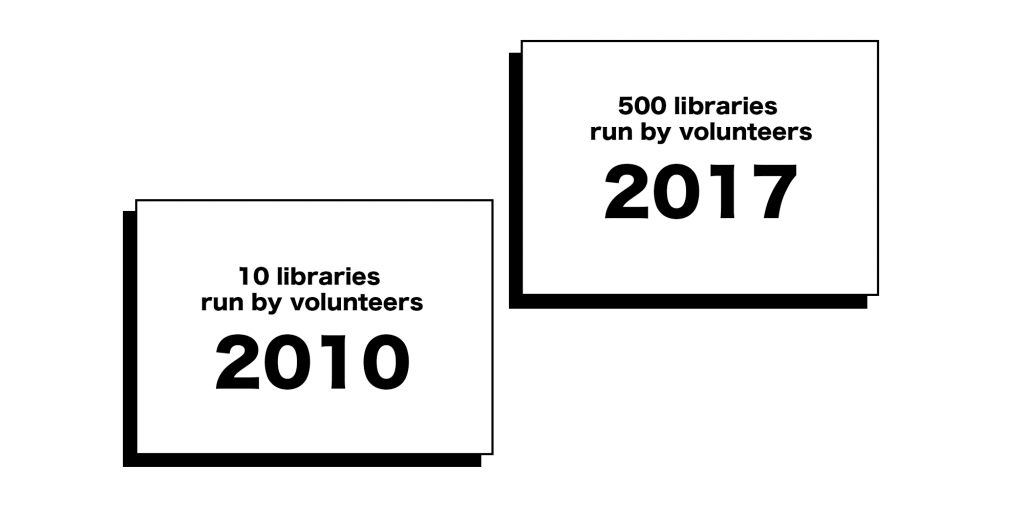 The closures of public libraries comes at budget cuts by local authorities. Over the last year, spending on libraries by local councils fell by £30m to a total of £741m.
"Libraries have faced significant cuts under austerity, with councils forced to reduce spending on all 'non-essential' services across the board," said CIPFA CEO Rob Whiteman in a statement to the Voice of London. "A lack of funds is forcing many councils to get creative in how they deliver their services, and we find in our public libraries this loss of paid employees is creating a reliance on volunteers."
"We can view libraries as a bit of a canary in the coal mine for what is happening across the local government sector, as we see it reflect many trends," he added.
Similarly, Nick Poole of CILIP (the library and information association) told the Guardian that the figures are "a clear wake-up call" and called for the government to use the forthcoming 2019 Spending Review to allocate more funding for libraries.
As a reader, this hits me where I live. I'm so sorry that eliminating education so often has to be a priority for budget cuts. Sorry, citizens of Great Britain. Knowledge really is power.

— Patty Gaffney Tescher (@tescherp) December 7, 2018
We reached out to the most popular library across Britain in 2017/2018, Manchester Central Library, to see how they managed to see more than one million visitors in the last year despite the increasing number of closed public libraries.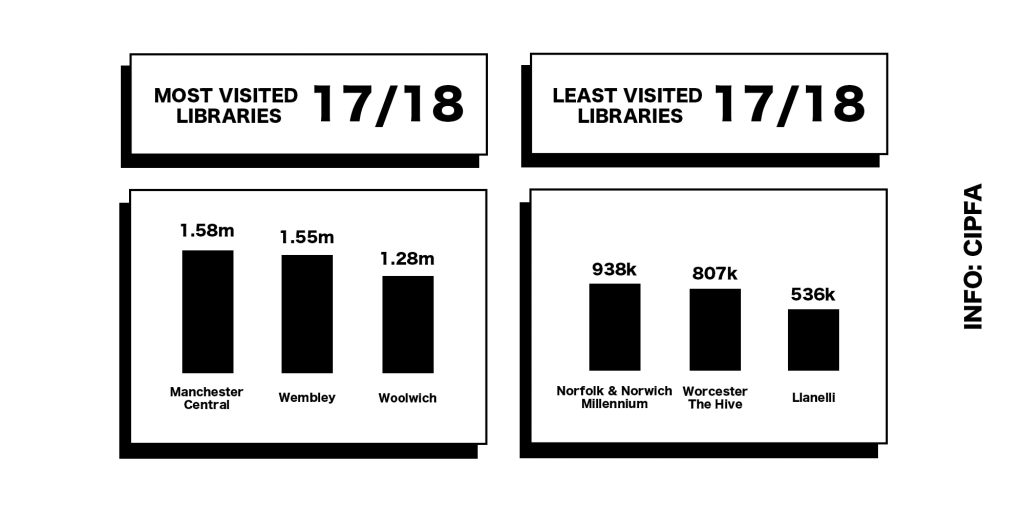 Executive member for Schools, Culture and Leisure, Councillor Luthfur Rahman said in a statement to Voice of London: "Libraries play an essential role at the heart of Manchester's cultural life and we are proud to have an excellent library offer in the city, with the world-class Central Library at its centre."
"In 2010, we invested £50m in a four-year project to fully refurbish and transform Central Library, which across its five floors offers facilities including the free use of computers and wifi, exhibition and performance spaces, dedicated spaces for children and young people, business and music libraries, a gaming area and media lounge, plus the interactive Archives+ Centre, with a focus on local history," he explained.
"We've created quality spaces and an environment where people want to spend time, as well as providing an events programme with the support of our partners, to encourage new audiences," Councillor Luthfur Rahman continued. "All this has led to increasing visitor numbers, lending levels and use of digital technology."
According to a statement Brent Council made to Voice of London, Wembley Library attracts visitors with more than just books on a shelf: "Wembley Library is a modern, dynamic venue, located within Brent's Civic Centre, which delivers much more to residents and visitors than just the traditional library services alone. Alongside a wide selection of books and periodicals, customers can access  PCs and workspace with free wifi and learning resources. Being co-located within the Brent Civic Centre enables the library to reach out to a broader range of residents and council staff."
Despite challenging financial circumstances for the Brent Council, they revealed their library service has not faced significant cuts in the budget because the value provided to residents by the library service is recognised by all in the council. As a result, all of Brent's statutory libraries are fully staffed by paid employees delivering core services, while volunteers assist staff in the delivery of events and programmes.
But while Manchester Central and Wembley Library seems to thrive, the same cannot be said for many other libraries across the UK, despite their potential value to communities.
Mark Taylor, spokesperson for the library and information association CILIP, told Voice of London: "While libraries continue to face distinct funding challenges due to shrinking budgets and increasing costs at a local authority level, they are uniquely placed as trusted public spaces in communities that provide equal opportunities for all. Whether you're starting up a business, looking for a place to study, introducing your children to words and stories, meeting new people with shared interests, or looking to improve your health and wellbeing, libraries have much to offer."
Brent Council also shared with Voice of London their thoughts for the future of the public library: "Across the UK, library services need to keep adapting and responding to the needs of their communities. There is now more collaboration and sharing of ideas across the library network which is supported by the position of libraries in the Arts Council England portfolio and the growth in national support organisations such as Libraries Connected."
"It is undoubtedly a challenging time for library services as part of wider financial pressures on public services and in these circumstances, the famous quote from Andrew Carnegie, who invested so much in developing the early public library networks, still encapsulates the role of and aspirations for libraries in the UK: 'A library outranks any other one thing a community can do to benefit its people. It is a never failing spring in the desert.'"
Worried about your local public library closing down? Get in touch @VoiceofLondonUK to have your say.
Featured image: Courtesy of Claire Chung
Words and infographs: Claire Chung | Subbing: Taylor Paatalo