Essay writing agencies may seem like a beacon of hope in the darkness of deadlines, but are they really bringing you towards the light?
After a BBC investigation revealed that there were many videos breaching the company's rules, Youtube has begun removing 'essay writing services' videos — particularly ones that promise plagiarism-free essays.
How are students finding and using these services, and what are the consequences they face when they are caught by their academic institutions?
According to the BBC, Facebook and Google have been asked by a regulator to end their income from advertising these businesses. This is a rising problem, because not only are the videos offering writing services, but there are also other writing agencies who contact students personally or post on Facebook groups as well.
One case study reported that one in seven students are paying someone else to complete their assignments for them. Universities often warn students against academic misconduct because they are risking their places in their institutions by finding ways to finish their deadlines outside of the rules.
These agencies may seem like an easy way out, especially if you are a student who is drowning in deadlines, but that is not exactly the case.
According to University of Westminster Principal Lecturer and Course Leader Jim McClellan, it is quite easy to spot when students are cheating.
"One of the things about essay mills is that they promise this idea that they are plagiarism free and they won't be caught," Jim told the Voice of London. "The problem for students who tend to use these is that academic staff can see all of your past work, so if your work suddenly improves, that's a sign of a problem."
Universities also have tools like Turnitin and Unicheck, online plagiarism detection services that spots work that has been copied. This makes it even easier for lecturers to notice that something is wrong. "If you look at our system for spotting plagiarism and see absolutely no evidence, there's something off about that as well. Obviously people can improve, but a drastic improvement is always spotted. Then we need to find other ways of investigating," said McClellan.
Anastasia Denisova, a lecturer from the University of Westminster, agrees that the essay writing services are not successful in helping students without letting them be caught. "Essay mills don't produce great quality work because they didn't attend twelve different classes and get feedback or guidance. If someone starts writing differently all of a sudden, it is very visible to us. It's poor academic practice, because higher education is a privilege; it's something that's very hard to obtain. That's why a university degree has very high value in the market."
Once students are caught, the punishments are severe. "It's a huge academic misconduct and there are various penalties up to expulsion from the university. If there is suspicion that there is plagiarism, the case may be escalated to the university wide committee. The student will be called to justify in front of the committee and if they are found guilty, then they will be expelled.
Voice of London went undercover as a student asking an essay writing agency for their help and services.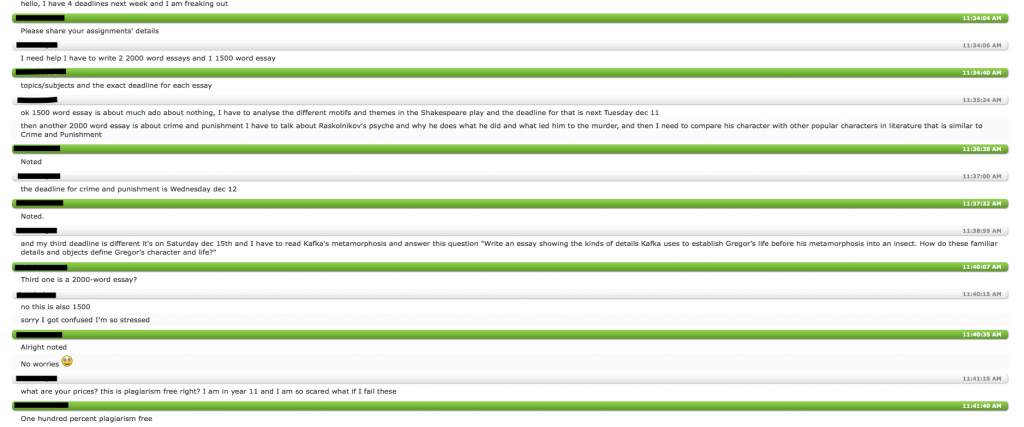 From this conversation, it is clear that many students tend to turn to services like these under the pressure of deadlines. However, there are many services within the university to help with assessments and essay writing for free. If you are struggling with your assessments, talk to your personal tutors, lecturers or anyone in the university that you know and are comfortable with, because it is less riskier than potential academic misconduct.

Featured Image: Nick Morrison via Unsplash
Words: Shruti Tangirala | Subbing: Taylor Paatalo