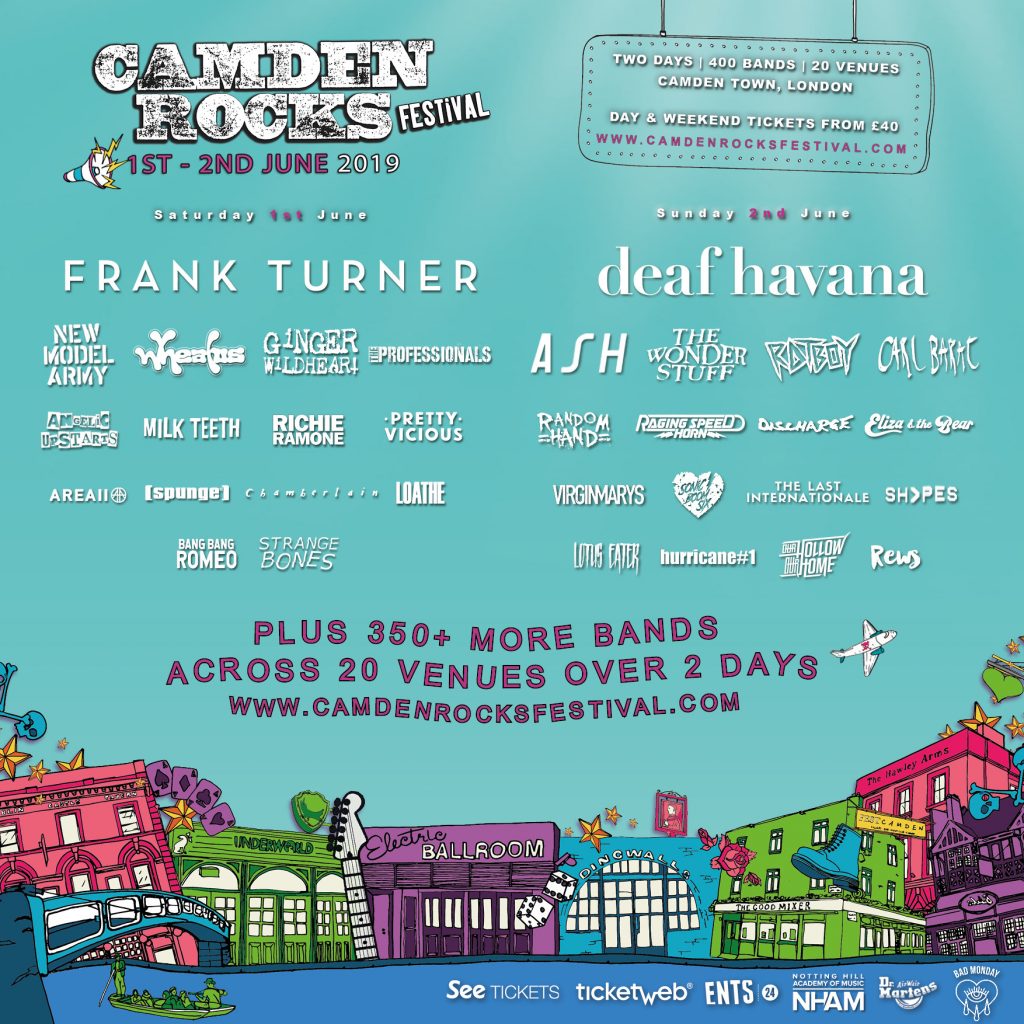 "Camden Rocks is where you can enjoy more than 200 bands – as long as you don't mind skipping between more than 20 venues. We're talking decent music… Quality and Quantity" Metro
"Camden remains at the heart of where generations of new music gets its start and I'm proud to be a part of that tradition." Billy Bragg
""It's great to see punters and bands from all genres come together to celebrate the best of live music. The energy across the day is electric and does Camden's rock and roll heritage proud". Chris McCormack, Camden Rocks Festival Organiser
After the announcement of Frank Turner as this year Saturday headliner, Camden Rocks Festival
presents today the Sunday headliner: Deaf Havana. Camden Rocks sees the talented alt-rock quartet
from Norfolk headline their first London festival, following an incredibly successful 2018, with the
release of their UK top 10 record "Rituals" and off the back of a sold out Brixton Academy show.
Deaf Havana says: "We're super excited to be headlining Camden Rocks this year. We've never
really headlined festivals in the UK, so for us this is amazing. Looking forward to seeing everyone
there." Deaf Havana will be joined by 27 of the finest bands in the today's rock landscape. The newly
announced acts include: melodic metal-core rising stars Our Hollow, Our Home; acclaimed Britpop
veterans Hurricane #1; British biggest breakout Indie trio Glass Peaks and more. The new additions
to the Camden Rocks Festival 2019 join an already impressive list of talent from rock, indie,
alternative, folk and punk music and its myriad of hybrids – a diverse list including the likes of Frank
Turner, Ash, Richie Ramone, The Wonder Stuff, Rat Boy, New Model Army, Wheatus, Carl Barat,
Ginger Wildheart, The Professionals, Milk Teeth, Pretty Vicious, Raging Speedhorn, Angelic Upstarts,
The Virginmarys, The Last Internationale and many many more.
Not only does Camden Rocks Festival showcase the very best UK and international emerging talent
alongside much love established acts, it also feeds off the rich diversity of venues and thriving music scene that makes Camden such a special place; one that continues to draw generation after
generation of misfits, rebels, music lovers and music makers.
As Frank Turner alludes to below, many of the UK's finest acts received their musical education in
Camden Town – there's a special something in the air. Anything goes in Camden and on the weekend of Camden Rocks Festival this is amplified to ten.
Frank Turner says: "I (mis) spent my youth getting the train to London and the tube to Camden as
fast as I could, because I knew it was the epicentre of where I wanted to be in life. As an adult I've
lived in and around Camden, and now I'm at the Camden Rocks Festival. It feels like exactly the
right place for me to be, it feels like home. I can't wait."
The 27th February 2019 Camden Rocks Festival announcement poster is available HERE
Taking place on Saturday 1st and Sunday 2nd June 2019, the festival, now in its eighth year, is
established as one of the must-see events in the UK musical calendar. Over 15,000 punters will have
the opportunity to see over 400 bands in 20 venues across Camden, London, over two days. Camden
Rocks Festival will host over 3,000 musicians over the weekend.
There are certain areas across the UK that are woven into the fabric of the countries musical DNA.
Camden is one. A district of North West London that's been at the forefront of Rock N Roll and
alternative culture for five decades. As venues close in many cities and towns around the UK,
Camden remains a thriving hub of music and culture. So much so that there is talk of Camden
receiving its own Hollywood Boulevard-style Walk of Fame in 2019.
The festival has prided itself in not only bringing some of the finest and best known and loved acts in
the world but also in showcasing some of the brightest, freshest global talent. The day or weekend
tickets covers all venues on the festival circuit, in addition to everything else Camden has to offer in
terms of food, culture and shopping. Camden Rocks is a chance for the UK music scene to come
together and celebrate everything that is great and loud in this country. Just as the USA has SXSW,
so the UK has Camden Rocks Festival.
For further information on Camden Rocks Festival including FAQs please see
www.camdenrocksfestival.com
www.facebook.com/CamdenRocksFestival/
https://twitter.com/CamdenRocksFest