The 2020 US election is around the corner. Meanwhile, celebrities in America have made use of their social media platforms to encourage their followers to vote. Not only this, but some celebrities have also voiced who they think should be president of the United States.
Celebrities including Kendall Jenner, Rihanna, Will Smith, Offset, Lizzo and others have campaigned via their social media platforms for people to take action and hit the polls.
The infographic below states some of the ways as to how these celebrities have used their influence to encourage voting: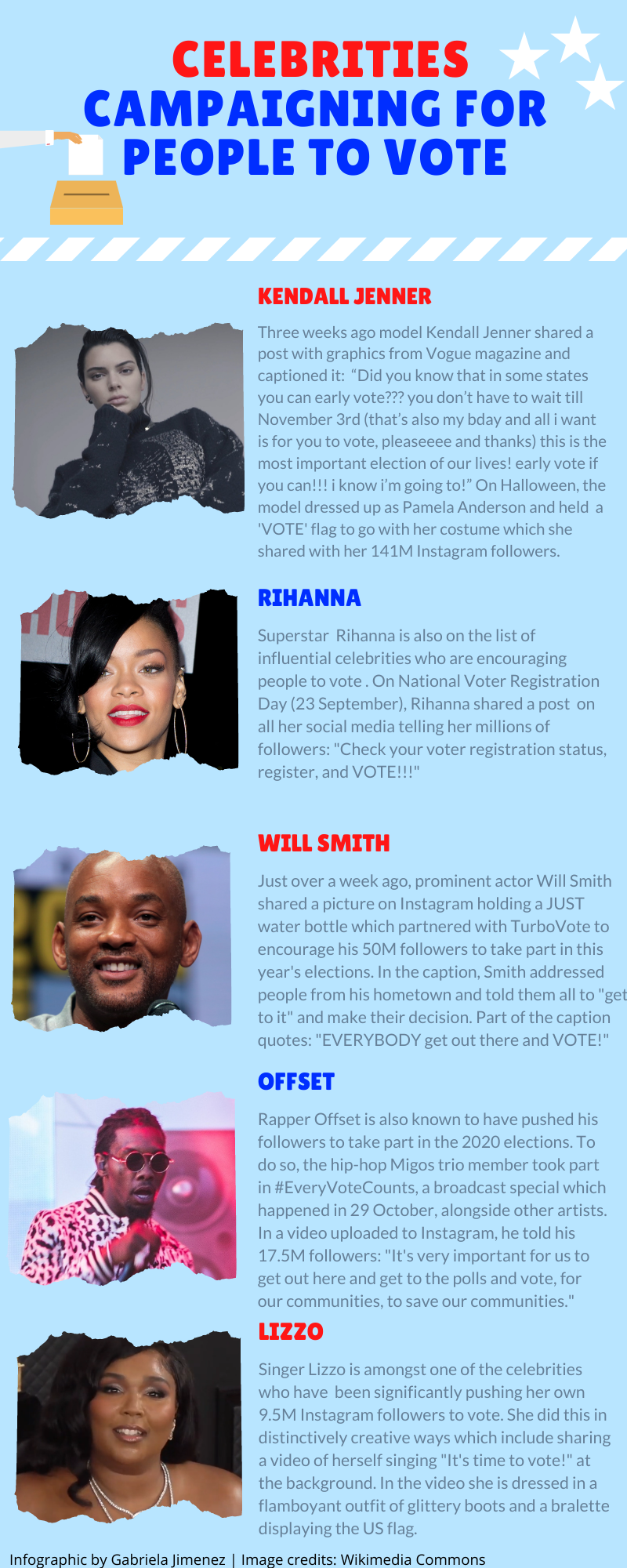 Multiple celebrities have taken it a step further. Instead of just encouraging others to vote, they have also endorsed who they think should be the next president and even prompted their followers to vote for them.
Between the two leading candidates Donald Trump and Joe Biden, some celebrities are openly rooting for Trump to stay in power while others are opting for Biden to win.
Team Trump:
Lil Pump
Florida-born music artist Lil Pump is one of the celebrities who have openly endorsed Trump and is rooting for him to stay president of the United States. He has taken his views to his social media sites, including his Instagram account, in which he has amassed 17.2M followers and counting.
His most recent posts, in which he shows to support Trump, include an image of the day he met Trump for the first time. The picture shows the rapper in a suit shaking the current president's hand and smiling to the camera. The image captions: "THE DAY I MET TRUMP #trump20202020."
Another post also shows an edited image of what appears to be a mugshot of Lil Pump, with Donald Trump's face photoshopped onto it which he captions "LIL TRUMP!!! ESSKEETI"
The rapper, who is best known for his iconic Gucci Gang song and collaborations with artists including Kanye West, has also previously gone on Instagram Live to express his support for Trump.
During the live stream, he appears saying: "All I gotta say is Trump 2020 b****! F*** I look like paying an extra 33 in taxes for Biden?" He then continued to say "F*** sleepy Joe!" before ending the live stream.
In other posts, the rapper also appears wearing gear which endorsed Trump for the elections; these included a face mask and a hat that both read "Trump 2020."
Pump claimed that Biden had lost his support due to the tax plan which he has proposed, and he has reportedly threatened that if Trump doesn't win the 2020 election, he will be moving to Colombia.
50 Cent
Rapper 50 Cent had also shown a disdain for Biden's proposal to increase tax plan for corporations and the wealthiest Americans and has previously encouraged his followers to "vote for Trump" after posting a screenshot with Biden's tax plan being broadcasted on television.
In the caption, the rapper showed to be rooting for Trump after saying: "WHAT THE F***! (VOTE ForTRUMP) IM OUT, F*** NEW YORK."
The highlight of the post was when he stated that he does not care about Trump not liking black people: "I don't care if Trump doesn't like black people 62% of you are out of ya f****** mind."
This led to a backlash from the public with his ex-girlfriend, comedian Chelsea Handler, reminding the rapper that he is black and saying how he "used to be" her "favourite ex-boyfriend."
You used to be my favorite ex-boyfriend.

— Chelsea Handler (@chelseahandler) October 20, 2020
He, however, later on, appeared to have changed his mind by taking it to Twitter with a post stating: "F*** Donald Trump, I never liked him." This was after seeing Handler's reaction of disappointment to his previous statement and discussing it on Jimmy Fallon's The Tonight Show.
👀a what, 😳another spin 💫Fu*k Donald Trump, I never liked him. 🤨for all I know he had me set up and had my friend Angel Fernandez killed but that's history. LOL @chelseahandler @jimmyfallon pic.twitter.com/Tya6EqDBFt

— 50cent (@50cent) October 25, 2020
Lil Wayne
Lil Wayne is another one of the celebrities who have shown support for Donald Trump on social media and endorse him to remain president.
On October 29, the American rapper and record executive posted an image on Twitter for his 34.8M followers to see, in which he appeared standing next to Trump and smiling with a thumb up.
Within the caption, Wayne expressed how Trump's platinum plan aiming to provide an economic boost to the black community is going to give them "real ownership."
He continues to say that Trump has listened to what the community had to say and that he will make sure that "he will and can get it done."
Just had a great meeting with @realdonaldtrump @potus besides what he's done so far with criminal reform, the platinum plan is going to give the community real ownership. He listened to what we had to say today and assured he will and can get it done. 🤙🏾 pic.twitter.com/Q9c5k1yMWf

— Lil Wayne WEEZY F (@LilTunechi) October 29, 2020
Conor McGregor
Conor McGregor is also on the list of Trump supporters.
Though he hasn't said much in regards to the upcoming elections, the Irish boxer and martial artist has previously praised Donald Trump and publicised his support for the current US president to his 8.3M Twitter followers.
Back on January 21 of 2020, McGregor wrote a response Tweet on Martin Luther King Jr Day, in which he claimed that Donald Trump is a "Phenomenal President" and quite possibly the USA greatest of all time.
The tweet continued to say how Trump "sits atop the shoulders of many amazing giants that came before him." He allegedly also told how he looked forward to Trump's future achievements.
Phenomenal President. Quite possibly the USA 🐐. Most certainly one of them anyway, as he sits atop the shoulders of many amazing giants that came before him. No easy feet.
Early stages of term also.
Incredible.
Congrats and Happy Martin Luther King Jr. day America 🇺🇸❤️🇮🇪

— Conor McGregor (@TheNotoriousMMA) January 21, 2020
Team Biden:
Jennifer Aniston 
Jennifer Aniston was one of the celebrities to come forward with her endorsement for Joe Biden. She has voiced her opinion of how she thinks Trump does not care about racism and has "publicly ignored science", leading to more people dying from Covid-19.
In a picture uploaded to Instagram, the actress who played Rachel Green in the Friends comedy show, appears to be putting her vote envelope through a ballot box and telling her followers that she has voted for both Joe Biden and Kamala Harris.
On the image caption, Aniston stated:
"I voted for them because right now this country is more divided than ever. Right now, a few men in power are deciding what women can and can't do with their own bodies. Our current President has decided that racism is a non-issue."
"He has repeatedly and publicly ignored science… too many people have died."
The actress continues to then say that she urges her followers to "really consider who is going to be most affected by this election if we stay on the track we're on right now." She advises people to "vote for equal human rights, for love, and for decency."
Ariana Grande 
Pop queen Ariana Grande has also stepped up endorsing Joe Biden by telling her fans to vote for him on her Twitter and Instagram accounts.
Yesterday, Grande shared a tweet of an image with a statement she made. The image read: "Florida is a very important state in this election and could make all the difference in results. Please vote."
Above the image was a caption in which the star urged her 78.2M Twitter followers to head to votesave.us to "reach out to voters in Florida this weekend and help to make sure everyone votes." The caption ends with "(for Biden)", influencing her fans to vote for Joe Biden as president.
go to https://t.co/JajYksTVm4 to reach out to voters in Florida this weekend and help make sure everyone votes (for biden) pic.twitter.com/6W3drWofBj

— Ariana Grande (@ArianaGrande) October 31, 2020
On October 24, Grande shared a series of images with her 205M Instagram followers, from the different looks she displayed on her latest music video Positions in which she appears to take on the role of US president.
In the caption, she writes: "what's your favourite look from the positions video? lmk (let me know) and vote for Biden."
Billie Eilish 
On the list of Biden supporters, we too find 18-year-old American pop singer and songwriter Billie Eilish who will be voting for the first time in this year's US election.
Eilish gave a profound speech at the Democratic National Convention (DNC) in which she expressed the importance for young people to participate in the 2020 election and vote for Joe Biden to help fix the country.
In the speech, Eilish says: "You don't need me to tell you things are a mess. Donald Trump is destroying our country and everything we care about."
She goes on to say: "we need leaders who will solve problems like climate change and COVID, not deny them. Leaders who will fight against systemic racism and inequality and that starts by voting for someone who understands how much is at stake.
"It starts with voting against Donald Trump and for Joe Biden. Silence is not an option."
"We all have to vote like our lives and the world depend on it because they do."
I'll just say what @billieeilish said: vote like your life depends on it. #DemConvention pic.twitter.com/5ewebNvQGg

— Joe Biden (@JoeBiden) August 20, 2020
Taylor Swift 
Pop singer Taylor Swift is another one of the celebrities who uses her influential social media platforms to endorse Joe Biden in the upcoming election. She has done so by speaking to sources such as V Magazine in The Thought Leader issue about why she will be voting for Joe Biden to run for president.
In her statement to the publication, Swift says:
"The change we need most is to elect a president who recognises that people of colour deserve to feel safe and represented, that women deserve the right to choose what happens to their bodies, and that the LGBTQIA+ community deserves to be acknowledged and included.
"Everyone deserves a government that takes global health risks seriously and puts the lives of its people first. The only way we can begin to make things better is to choose leaders who are willing to face these issues and find ways to work through them.
"I will proudly vote for Joe Biden and Kamala Harris in this year's presidential election. Under their leadership, I believe America has a chance to start the healing process it so desperately needs."
The singer has also shown her support for Joe Biden and Kamala Harris by sharing a picture of decorated cookies with her 87.4M followers which read "Biden Harris 2020".
I spoke to @vmagazine about why I'll be voting for Joe Biden for president. So apt that it's come out on the night of the VP debate. Gonna be watching and supporting @KamalaHarris by yelling at the tv a lot. And I also have custom cookies 🍪💪😘

📷 @inezandvinoodh pic.twitter.com/DByvIgKocr

— Taylor Swift (@taylorswift13) October 7, 2020
Words: Gabriela Jimenez   Subbed: Anuj Datta