According to researches last year more than 100,000 young people asked for help because they were experiencing homelessness – or were at risk of sleeping on the streets. 
Centrepoint – the charity for young homeless persons – has revealed that 103,000 people in the UK aged between 16-24 approached their local councils for support. 
The research was based on findings released by the 67% of Greater London councils who responded to freedom of information requests.
In 2017/18 local councils in London were approached by more than 9,000 young homeless. Only 25% were accepted as statutory homeless and were given a place to stay and the support they needed. 
And 75% were given alternative care. This was often an attempt to mediate between the young person and their family – with an aim to move them back into the family home or helping with a deposit for alternative accommodation.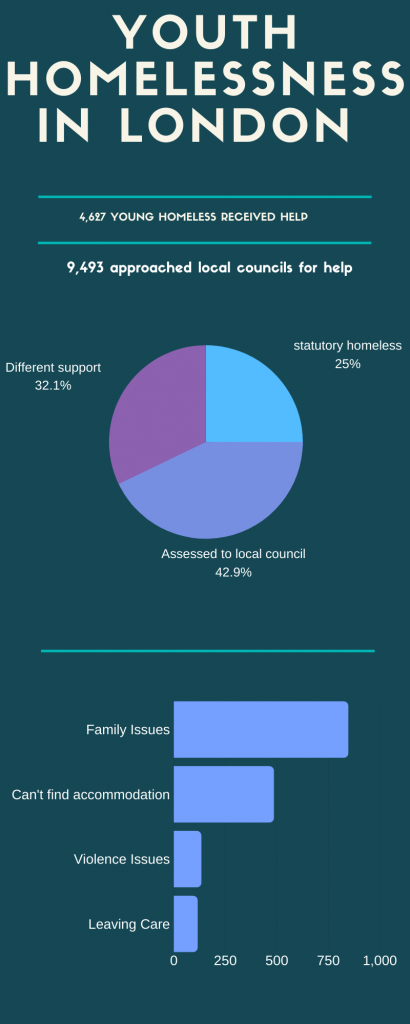 Although there are many reasons why a young person in the UK can end up sleeping rough, the most common factors which contributed to this seemed to concern family issues. 
Being forced out of the family home after an argument or having parents who are no longer willing – or indeed able – to care for their child or children is, according to the research, very common. 
The researchers also found that termination of tenancy agreements and contracts by unsympathetic landlords; physical and/or mental issues; drug and/or alcohol addictions or leaving care homes were not unusual. 
Centrepoint stated that the impact homelessness has on young people is different compared to that faced by older homeless people. 
They established that the young homeless are at an increased risk of developing mental health issues including depression, anxiety and anorexia. 
And the charity also learned that because of their situation, young displaced persons are unable to have access to proper education – making it harder for them to find a job in both the short and longer term. 
On the lack of funding for housing and access to benefits, it was learned that the system is too complicated. 
Seyi Obakin – Chief Executive of Centrepoint – told The Guardian: "The government has been increasingly vocal on the issues of homelessness. But without extra funding for councils to meet their new obligations, they are risking setting councils up to fail."
It was announced by the Greater London Authority this winter that the Mayor of London, Sadiq Khan, will launch a £2.2 million "Winter Programme Fund". 
Mr Khan has pledged to support local authorities and to work on finding a long-term plan to help solve the problem of youth homelessness. 
Words: Giulia Frau | Subbing: Scott Mathew
Infographic: Giulia Frau. Data collected from the Centrepoint database