With countries in mainland Europe reporting high numbers of cases amid fears of a "fifth wave" and Austria even going back into a full-blown lockdown, questions are being asked of the UK government's response to rising cases across the country.
Being based out of Harrow, Voice of London took an in-depth look at how the situation is unfolding in and around our local area and compared it with the rest of the UK based on information from the UK government's daily COVID-19 tracker and the BBC.
The general situation in Harrow is that cases are rising in all areas in the borough, with the greatest rises being in Greenhill South, West Harrow and Northwick Park.
This is in stark contrast with the neighbouring borough of Brent, which has seen minimal rises, if not drops, in cases over the past week, with some exceptions but fits with data from the borough of Barnet.
The case rate though in Harrow is currently below the national average of 410 reported by the BBC at 322 cases per 100,000 people but, in comparison with Brent, is much higher than the 267 they reported.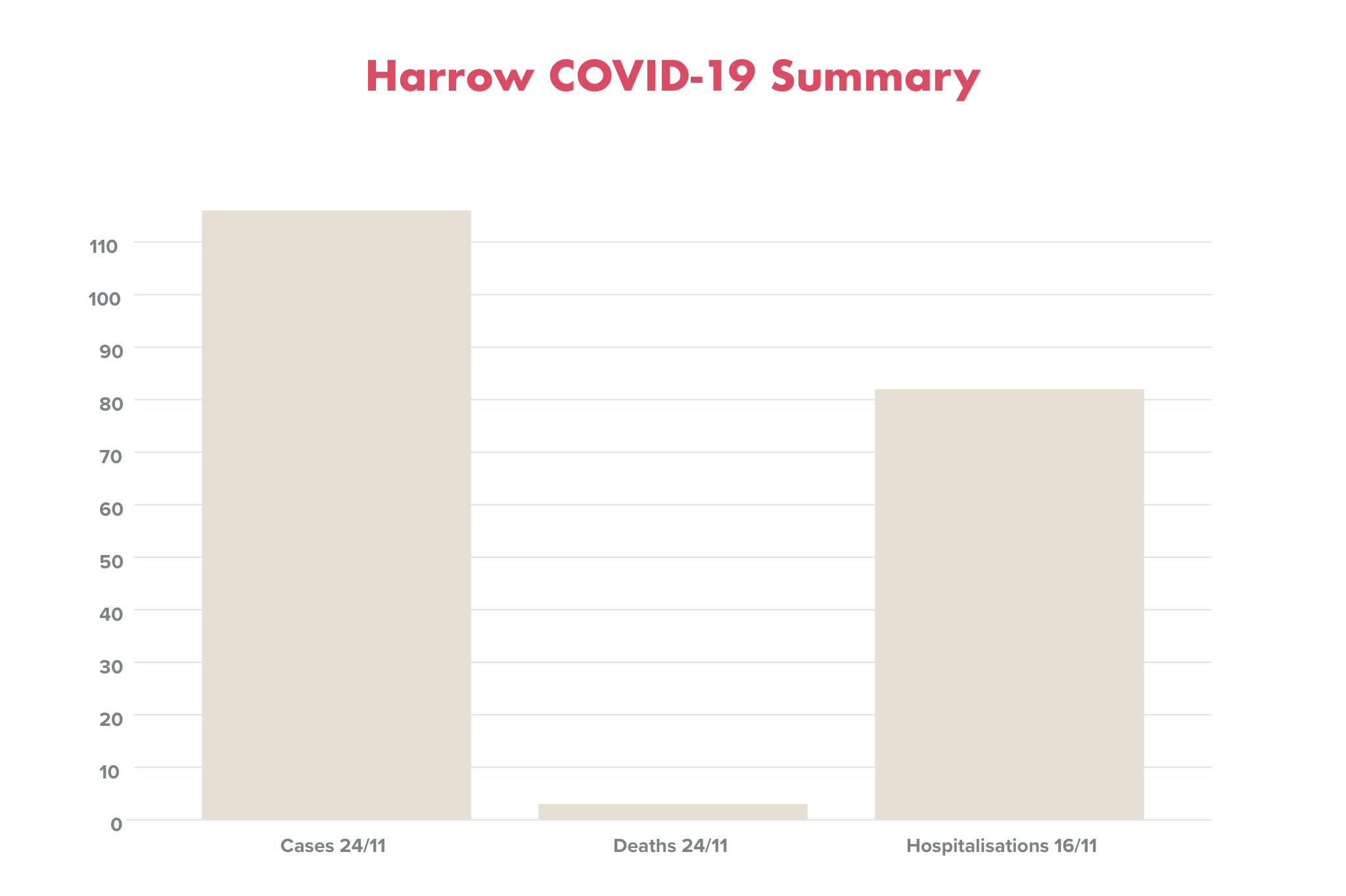 This infection rate contrasts slightly with the vaccination rates in both boroughs though, as Harrow has reported a higher vaccination rate for both first and second doses compared to Brent and generally lines up with the UK as a whole in regards to vaccination rates.
Hospitalisations have risen too in North West London by 29.2% compared to last week going up to 62 people going into to hospital for coronavirus.
The promising data though is the substantial fall in deaths in both Harrow and the UK as a whole. According to the COVID-19 tracker, though daily cases are close to the same heights recorded during the peak in January, deaths have fallen by almost 1,000 per day in comparison.
In Harrow there has been one death from coronavirus recorded between the 12th and 18th of November 2021; which is a decrease of 66.7% compared to the past week. This continues in Brent as well, with the borough recording two deaths in the same period falling by 71.4%.
While rates do change often depending on events taking place in the area and other general conditions, it is clear that advancements in the treatment of COVID-19 as well as higher vaccination rates are making an impact on rates here in Harrow and the UK as a whole.
Words: Peter Trythall | Subbing: Megan Milstead