London is best known for their famous food markets across town. Different specialities are being offered on their food stalls. They have whatever your heart desires and a big variety of food from different cultures all around the world. Who doesn't like to try new food out without leaving their own city?
Camden Market
Camden market is located in North London and is easy to get to viaCamden Town tube station. It offers a good variety of food all around the world. If you're craving Korean K-dogs, Mexican Birria Tacos or Spanish Churros, you can explore many more food options at Camden market and challenge your tastebuds. The prices are affordable.
Watch our review on Camden Markets food stalls on Tik Tok
The Truman Brewery
The Truman Brewery is in East London and is located at 91 Brick Lane. They offer different types of food. If you desire something sweet, you can get deep fried ice cream but if you desire something savoury, there is a great place called Chunky Buddha. They sell Asian food but are most known for their delicious Steak Sando with fries.
Old Spitalfields Market
Old Spitalfields Market is a market in Spitalfields, London, which is in East London. They sell fluffy Taiwanese pancakes at Wheelcake Island, where you can choose lots of toppings and sauces or you can try their delicious cheeseburger at Bleecker Burger. Also, if you're adventurous you can try out colourful street food dishes from Sri Lanka at Karapincha.
Netil Market
Netil Market is in East London at 23 Westgate Street in Hackney. They are best known for their street food and their big selection of many different food stalls makes it the place to be. They have many options on their menus like their Falafel Pitas at Pockets or if you crave Asian food, you can grab their bao buns or just grab a bagel with your topping of your choice.
Borough Market
Borough Market is in Southwark, London and is one of the largest and oldest food markets in London as it's been there since the 12th century, which is a great experience. Bread Ahead Bakery is just one of the great spots, where to buy delicious donuts and if you crave something saltier, they offer massive slices of Pizza, which is also a great hit.
Greenwich Market
Greenwich Market is open 7 days a week from 10am to 5:30pm and has 46 food stalls in total. Brazilian, Italian, American, African, Jamaican or Indian this is just a small preview of their great variety of food from different cultures. Greenwich market offers food from many more countries and cultures, which makes it very special and if you want to try new food out this is definitely the place to be.
Here is a map showing the best locations, when it comes to food markets in London: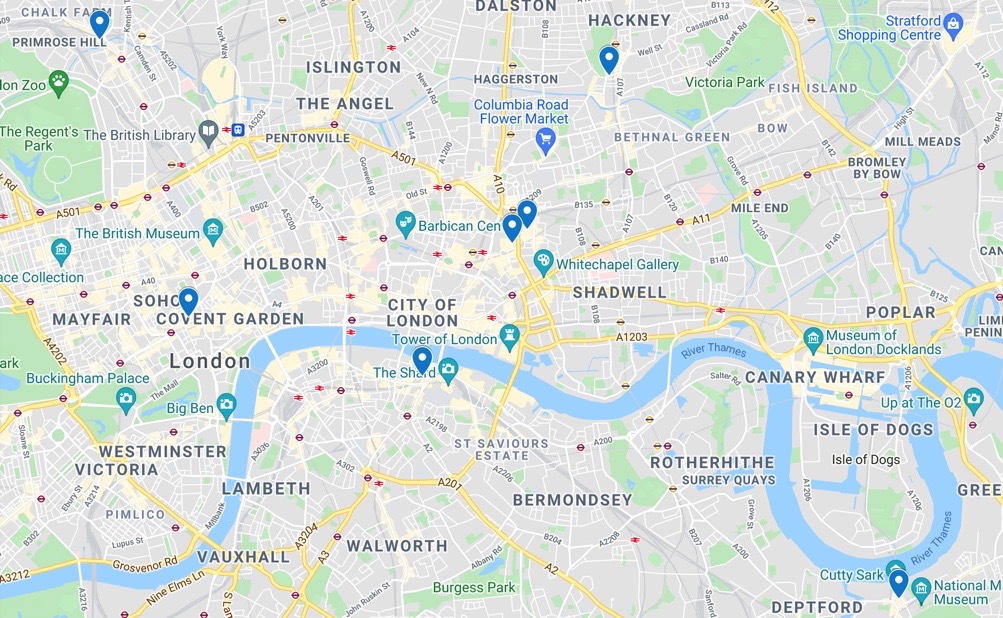 Here is a link to this map: https://www.google.com/maps/d/u/0/edit?mid=1l42g3ZYw9A7rJhc9aWzQLoEtvSoUSUXo&usp=sharing
Vote for the best food market on our Twitter Account
Words by Shemina Schildhauer, sub-edited by Jade Mudau