Words and Photos: Delmar Terblanche
Subbing: Harrison Hindle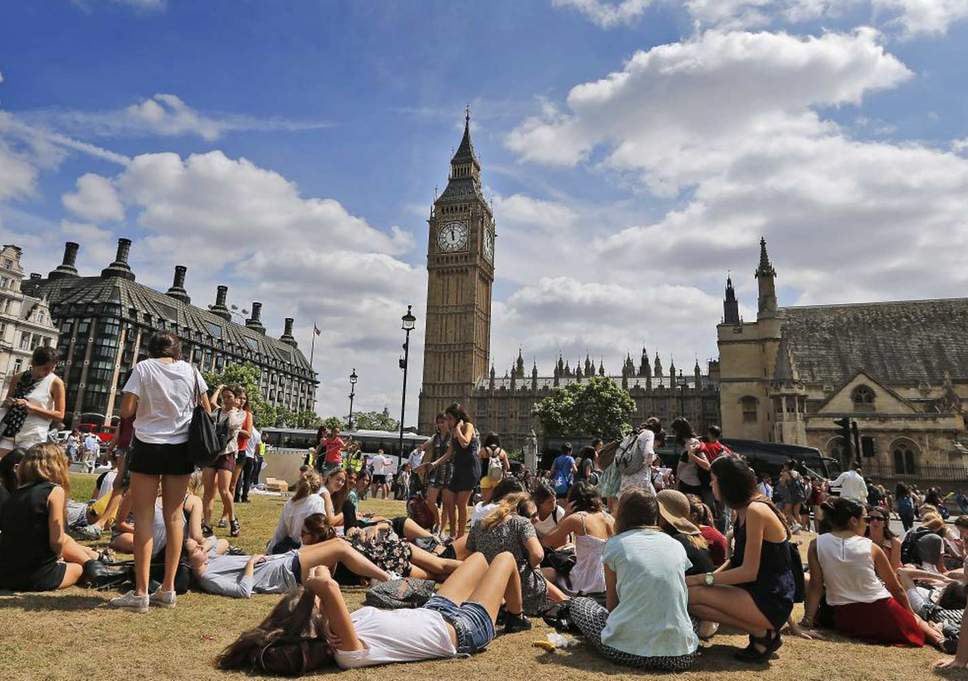 There was a time when "English Summer" was a punchline. But with the nationwide heatwave set to continue another week (albeit with slightly lower temperatures), that time feels like a distant memory. The question then becomes – how best to make use of a genuine London Summer? This isn't a beach city, nor is it famous for its outdoors scenery. Not to mention, of course, that it's one of the most expensive places on earth.
Well, the solution is here: morning walks. I know those two words aren't exactly relaxing ones, but there's a lot to be said for walking through a London summer. For one, it's cheap, and, for another, you can avoid the stinking, sweaty, sodden crowds that plague the tube and the buses this time of year. But, most importantly, walks offer a whole new way to appreciate this marvellous city. With eight million people, two thousand years of history, and 9,300 double decker buses, London really is one of the densest and most intriguing cities on earth, and a well planned walk through the city's heart can help to remind us just how true that is. After all, as Samuel Johnson said: "When a man is tired of London, he is tired of life." So, let's get living!
Planning
A perfect London walk requires two things: good weather and a set route. As the former is now upon us, it only makes sense to look into the latter and plan a great day out. London has oodles of famous walking routes – from a stroll down the Southbank to the gorgeous Jubilee Greenway, but making the right choice isn't just about the sights: it's about the story. Every walk through London offers a unique opportunity to absorb a different portion of the city's past- a different set of lives and loves and legends. When selecting your walk, read up on the history of the buildings and streets you pass. You never know what you'll find.
When it came to my walk, things were somewhat clearer. I chose a route favoured by the late great film critic Roger Ebert, who boasted that he had walked this road in every season and at every time of day, and had even written about it beforehand. 
My Walk
We begin with the second best cup of coffee in London (the first can be found in Soho, at Bar Italia – a 98 year old institution staffed by cranky Sicilians in bow ties). Still, second best ain't bad. Monmouth, outside the Borough markets in Southwark, serves 16 different blends from 10 different countries. Its queues spill far out the doors, a challenge the store meets by having its waitstaff take your order in the alley, then hand you your coffee as you reach the till.
From there, food. There are two options – either a hearty breakfast before the walk (My Tea Shop provides a classic British fry-up), or a jaunt through the markets for picnic food – cheese, meat, bread, jams, exotic spices from across the sea the likes of which ye have never seen! The Borough Markets have it all.
From there, the walk begins proper. A trip on the tube to Belsize Park station opens into a walk to Hampstead Heath, via The George Inn for a late morning beer (if one can't day drink in London, one can never day drink at all. Besides, it was a Belgian white – practically lemonade).
<iframe src="https://drive.google.com/file/d/1IpC5ynhIR0liQzMEBDNVI-GNNGQ-tBYa/preview" width="640″ height="480″>
[googleapps domain="drive" dir="file/d/1W4JOobLQKZBiFbwkQjq0odAuqYqwHgSy/preview" query="" width="640″ height="480″ /]
(Buskers are not unusual in London, but accordions – especially a pair in one neighbourhood – are much rarer.)
As atonement for our alcoholic sins, the next destination, before we reach the heath, is a tea shop – the Hampstead Tea Rooms, to be precise. Ebert wrote of this 90 year old institution that "they will sell you a pastry at the door", and the over-eager waiter who ushered us in through the window seemed to prove as much.
Tea and scones fuel us for our final pre-heath digression, a trip to John Keats' old house, where I read a verse from The Nightingale, realised I had done so aloud, and walked away very quickly while under several confused gazes.
At last, the heath – a great cornucopia of wild flowers, domestic dogs, and grass that's somewhere in between – stretches before us. Parliament hill provides the greatest view of London I've yet seen, and at night is a remarkable spot for stargazing. If you chose the picnic option at this walk's beginning, now would be the point to cash in.
Ebert's original walk then takes another half an hour to wander north through the heath, eventually arriving at the historic Kenwood House (a regency era manor), the even more historic Spaniard's Inn (a pub which predates Chaucer), and Highgate cemetery (the most haunted graveyard in Britain).
London is an expensive, overpopulated, filthy place that was not designed to cope with this heat. It is also kind of magical. This city has been the beating heart of Britain for two thousand years, and an epicentre of global trade for 500. The history baked into each tiny corner – every pub, every alley, every church, and every graveyard is extraordinary.
So if you're looking for a cheap way to make the most of this Summer weather, you could do far worse than a stroll, an amble, a trot, a saunter, a plod, a hike, a trek – a walk.
Just for God's sake do it in the morning while it's still tolerable to even be outdoors.
Some more of London's favourite walks: